Coca-Cola Europacific Partners (CCEP) has announced the launch of the latest campaign for its Costa Coffee ready-to-drink (RTD) chilled coffee range this summer.
Designed to keep the brand front of mind with consumers, the campaign will drive trial of its Latte and Frappe ranges.
CCEP said the Costa Coffee RTD range is outperforming an already successful and growing segment, enjoying 47.5 per cent volume sales growth and 59.4 per cent in value sales growth, helping to fuel the RTD coffee segment which is now worth £280.5 million.
Known for its great taste and coffee-first proposition, the range uses the same beans as it's coffee shops.
Launching this week and running throughout the summer, the campaign aims to give consumers' summers a lift. The campaign includes video content on social media, eye-catching nationwide out-of-home advertising, and sampling takeovers in high footfall areas of London.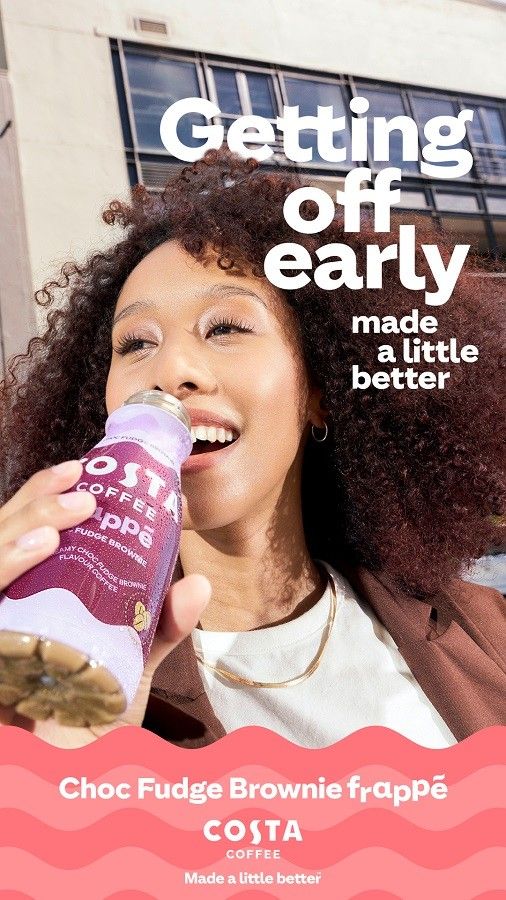 Festival partnerships with Pride, Might Hoopla, Barcode Festival, Car Fest, and Kendal Calling will see sampling bikes and a branded Land Rover Defender distributing cans of Costa Coffee Latte, Vanilla Latte and Caramel Latte as well as the Frappe range.
Festival goers can also head over to 'The Dopamine Booth', an immersive experience inspired from the current dopamine dressing trend of wearing clothes that enhance your mood. Choosing from one of three 'moods', users will be able to curate their own experience, transporting themselves away from the intensity of the festival for a moment of calm, a chance to refuel or to energise them for the rest of the day. Visitors also have a chance win a year's supply of Costa Coffee RTD chilled coffee.
"Our uplifting summer campaign is perfectly aligned with the key RTD chilled coffee need states – giving young adults a 'boost' or a 'pick me up' – and builds on Costa Coffee's sampling success at freshers festivals and major city takeovers in 2022." Pippa Foster, associate director of commercial development at CCEP GB, said.
"The Costa Coffee chilled RTD range has enjoyed tremendous value and volume sales growth again over the last year. This summer, we're confident that the marketing campaign and sampling activity will engage more consumers than ever before – driving demand for the Costa Coffee chilled RTD range and incremental sales for our customers during a key trading period."