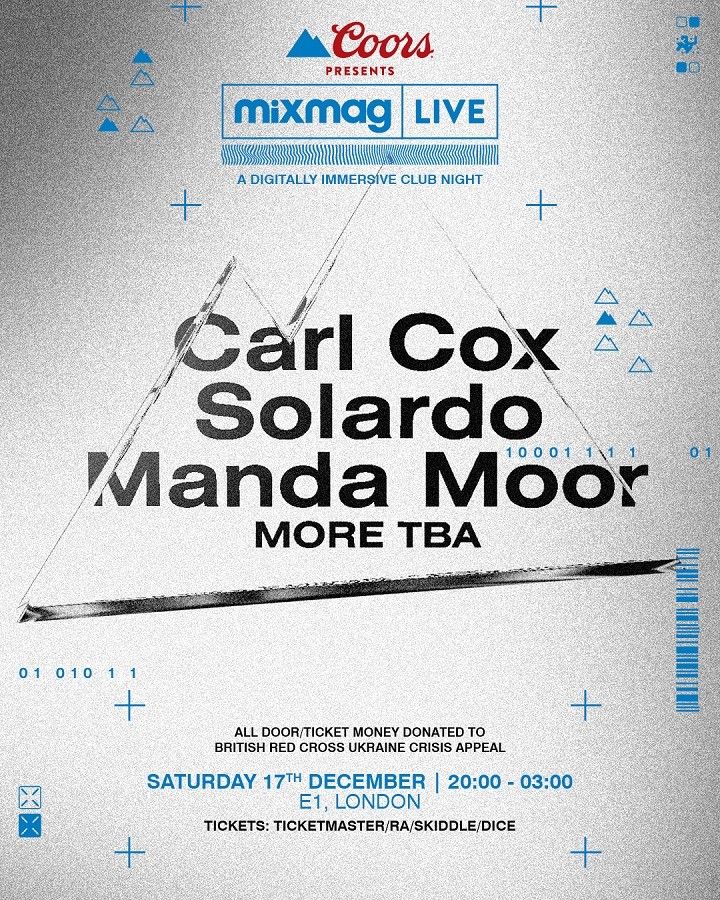 Leading lager brand Coors has once again teamed with dance music media brand Mixmag to create 'Coors presents Mixmag Live' – a one-off unique digitally immersive club night featuring established and fresh DJ talent.
On 17 December, at E1 in London, Coors and Mixmag will celebrate with a warehouse-style big room clubbing experience, to give fans an unmissable and unforgettable dance music experience – featuring a 270-degree digital screen experience to create a fully immersive 'Fresh' rave experience transporting consumer into different worlds.
The unique event will celebrate the evolution of dance culture with a seven-hour back-to-back performance from top-tier dance music talent, including renowned British house and techno club DJ Carl Cox, Solardo, Manda Moore and Coors x Mixmag DJ Quest Winner, with more to be announced.
The Coors event name was inspired by first legal rave tape 'Mixmag Live' launched 30 years ago, curated by Carl Cox. At the time this was a fresh new way of taking dance culture to the mainstream and changed the world of dance music – DJs now stream their 'mixtapes' on social.
It builds on the brands' success as the largest premium 4% lager brand in the UK last year, and is part of its 'Keep It Fresh' campaign which brings to life Coors' Mountain cold refreshment and fresh attitude – and is designed to keep the brand front of mind with its target consumers.
"Mixmag Live will be our freshest collaboration yet with an experience like no other, bringing together some of the world's best DJs and break through DJs – we can't wait for people to enjoy this unique digitally immersive clubbing experience," Abigail Spencer, Coors marketing controller for Western Europe at Molson Coors, said.
"Uniting people through the power of music is something we're hugely passionate about as a brand. Our partnership with Mixmag has produced some amazing events over the years including the ten-year celebration of The Lab in 2021, which saw the world's biggest online back-to-back DJ set, reaching 11m people over the course of lockdown from the comfort of their home – we're confident this year's event will be another huge hit."
Nick Stevenson, Managing Director of Mixmag said: "When Mixmag and Coors get together we make magic happen and this December is the biggest rabbit we've ever pulled out the hat! To get Carl Cox to headline this show, one of the greatest DJs on the planet, is something that has excited not just the Mixmag and Coors teams but every dance music fan in the UK.
"Flanked by a plethora of breaking and established DJ talent this club night will be like no other and we can't wait to see everyone's excitement as we celebrate the fresh talent making a name for itself."
All money raised through ticket sales from Coors Presents Mixmag Live will be donated to the British Red Cross Ukraine Appeal.