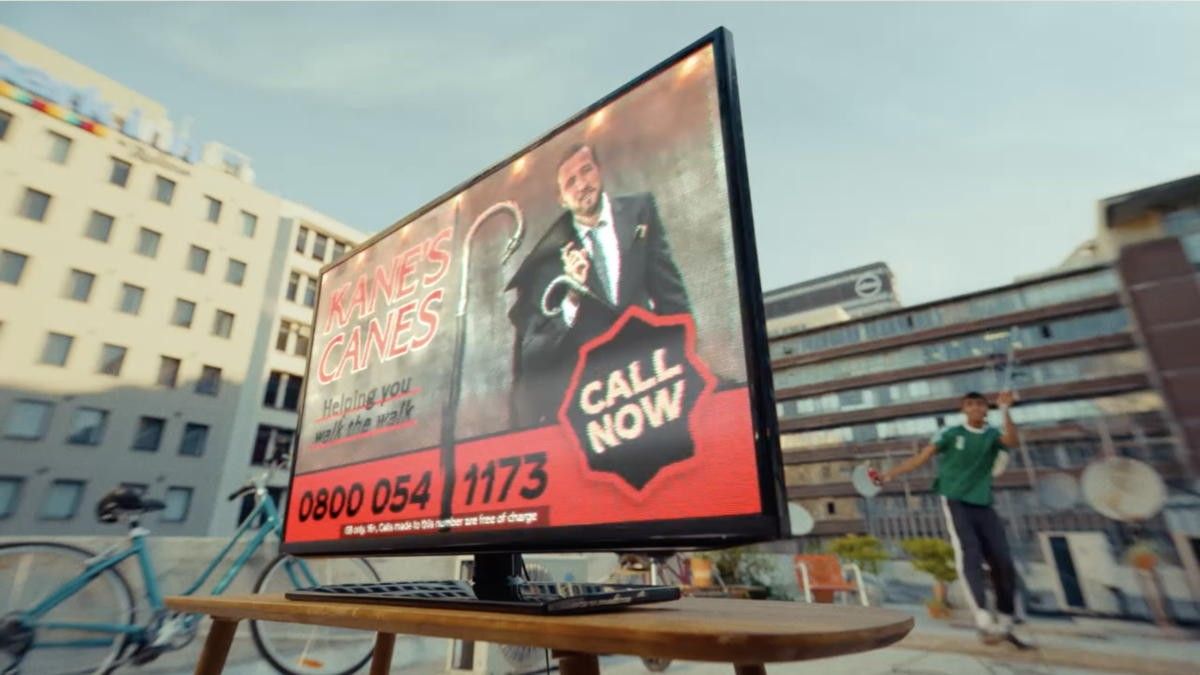 Coca-Cola Great Britain has announced two on-pack promotions that will run this summer to support its Euro 2020 partnership: Win A Ball, Give A Ball and Scan. Enter. Win.
The brand has also launched a new TV advert featuring cameos from England stars – Harry Kane; Marcus Rashford and Alex Oxlade-Chamberlain, who appear to be promoting a 'side hustle' business. The three ads within the ad, show-up in a glitch on the on-screen television for a split second and will be visible to the eagle-eyed viewer.
England Captain Harry Kane wants to help fans not just talk the talk but walk the walk with his new Cane selling business, Marcus Rashford, after a big year, announces he's selling marker pens, and fashion-proud Ox unveils his new sock business.
Those that dial the numbers on-screen will be met by an individual voice message from each player, congratulating them on finding their 'side hustle' and taking the initiative to call the number.
Harry Kane said: "Whilst I might not actually have a Cane selling business, I hope fans enjoyed Coca-Cola's fun take on their advert and got involved in the joke. Coca-Cola are a big player in football, especially this summer with their UEFA Euro 2020 sponsorship, and I'm happy I was able to be a part of this before heading off for the tournament."
The on-pack promotions will run in-store simultaneously and offer fans the chance to win thousands of prizes.
'Win A Ball, Give A Ball' champions Coca-Cola's ongoing partnership with StreetGames, and gives participants the chance to not only win a Euro 2020 football, but to choose a region to donate a ball to as well, ensuring more young people than ever can play along with every Euro 2020 fixture.
'Scan. Enter. Win' offers up thousands of prizes from Coca-Cola alongside other official UEFA sponsors: from the ultimate Coca-Cola Euro 2020 fan kit, to Hisense TVs, Just Eat vouchers and Konami PES access codes.
Louise Maugest, Marketing Director at Coca-Cola Great Britain, commented: "At Coca-Cola Great Britain we are always looking for new and innovative ways to engage with our customers. We had an opportunity to use our talent to surprise fans at home enjoying UEFA Euro 2020 and give them the chance to hear from some of the biggest stars in the world in a fun way."