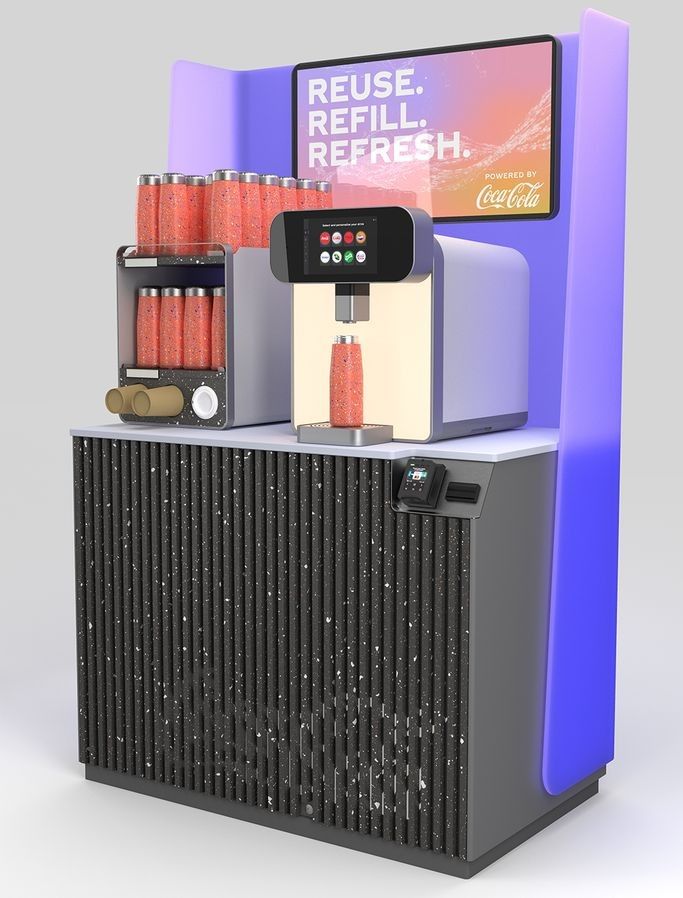 The Coca‑Cola Company has announced its latest beverage machine – New Compact Freestyle – a smart dispenser that offers greater choice and personalisation and helps reduce carbon emissions and packaging.
Trials of the dispenser – the smallest unit in the Freestyle range of machines – will begin this month, at a range of at-work and on-the-go outlets in France and Belgium, followed by Britain and other markets in Europe throughout 2022 in partnership with Coca-Cola Europacific Partners (CCEP).
New Compact Freestyle has been developed as an extension of the iconic Coca-Cola Freestyle brand and portfolio. Whereas existing Freestyle machines are designed for larger outlets with a higher consumer footfall, the New Compact Freestyle has been specifically designed to offer smaller locations the Freestyle experience, without the need for a significant amount of space.
The machine allows consumers to personalise their drink from around 40 beverage choices, and choose to fill their own reusable vessel.
CCEP said the drinks-on-demand innovation has the potential to contribute towards its goals of zero waste and Net Zero greenhouse gas emissions by 2040. It also aligns with the Coca-Cola Company's recently announced global goal of 25 per cent reusable packaging by 2030 which includes refillable vessels for dispensed drinks, along with refillable or returnable glass and plastic bottles.
"We continue to innovate to meet customer and consumer needs for quality, choice and convenience and harness the benefits of digital technology. Through this trial we aim to better understand the opportunities dispensed solutions offer us, our customers and consumers," Stephen Lusk, chief commercial officer at CCEP, said.
"We expect new drinks delivery models such as this to play a key role in our journey to reducing our packaging footprint."
Preliminary analysis of the new dispenser has identified a lower carbon footprint per litre of chilled beverage compared with conventional pack types, for example cans and PET bottles. Further analysis will now be conducted in market conditions through this and future trials.
The digitally-advance capabilities of the New Compact Freestyle will also provide rich data and insights into consumer behaviours to further help optimise the solution.
The solution also has the potential to contribute towards Coca‑Cola in Europe reaching its ambitious target of a 30 per cent reduction in greenhouse gas emissions by 2030 (vs. a 2015 baseline) and Net Zero emissions by 2040.
"This innovative new dispenser is an exciting step forward for Coca‑Cola," said Nikos Koumettis, President of Europe at The Coca‑Cola Company.
"The findings of our preliminary analysis promisingly show that the New Compact Freestyle can have a lower carbon footprint per serving compared to traditional packs, such as cans and PET bottles. This is hugely encouraging given the importance to deliver meaningful action on sustainability for Coca‑Cola, and our customers and consumers."
CCEP added that the latest innovation complements its existing range of Freestyle dispensing machines and other trials including Fanta Orange, Sprite and Mezzo Mix soda syrups in Germany, and a refillable vessel pilot in Sweden.
"Our investment in multi-beverage dispenser manufacturer Lavit and CCEP Ventures' 25 per cent stake in Innovative Tap Solutions self-pour technology in Spain further demonstrate our intent to explore new dispensed solutions as a key strategic route towards eliminating packaging waste and reducing our carbon footprint," Lusk said.