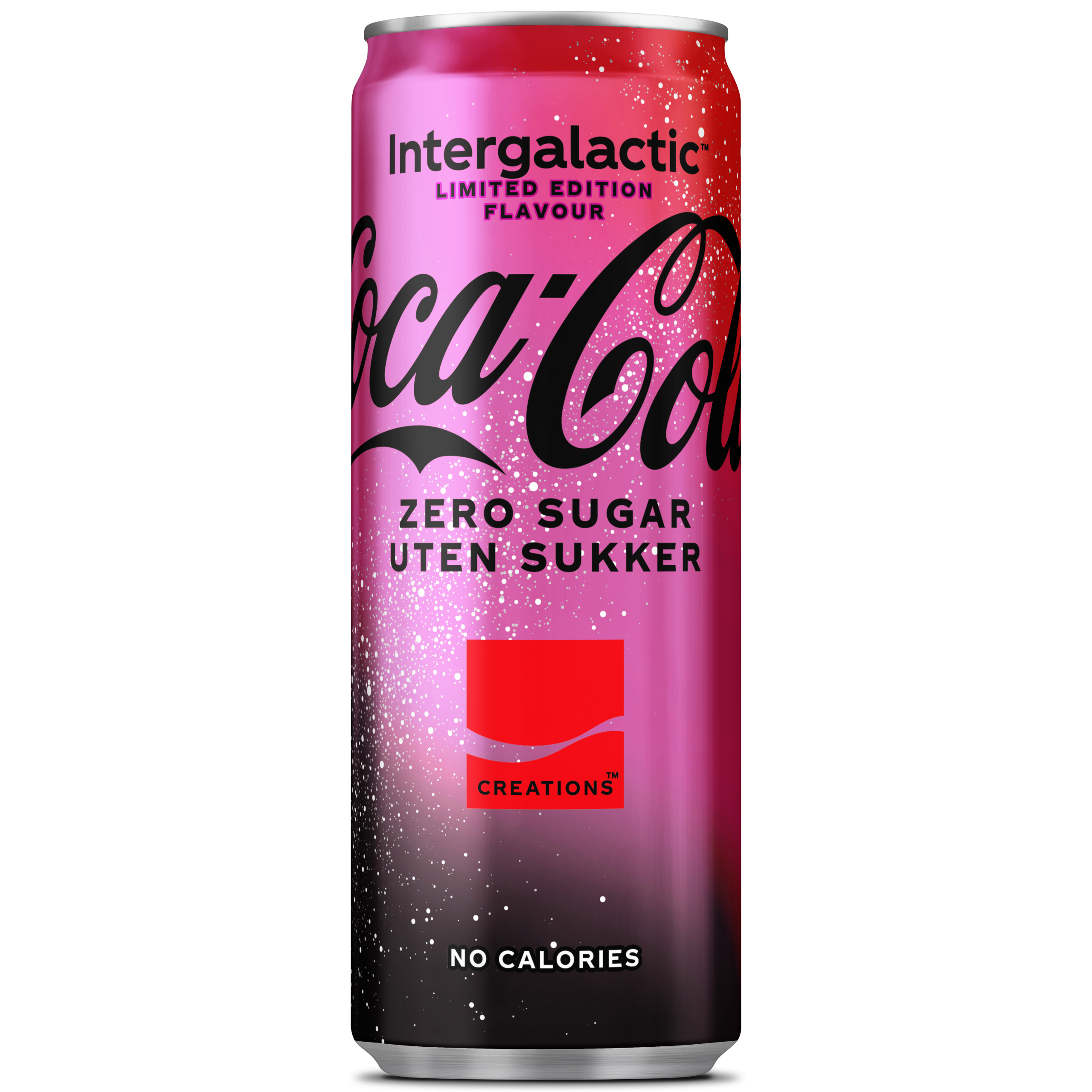 Intergalactic is Coca-Cola's first limited edition product under the brand's new Coca-Cola Creations platform, a refreshing, innovative take on the Coca-Cola taste consumers know and love. The zero sugar liquid has a brilliant reddish "starlit" hue, and delivers a cooling sensation, and comes in a 250ml can inspired by the stars.
Coca-Cola Creations
Coca-Cola Intergalactic is the first limited edition, zero sugar product under Coca-Cola Creations, a new platform that takes the Coca-Cola brand and lends it to new expressions, driven by collaboration, creativity and cultural connections.
Over the course of 2022 and beyond, Coca-Cola will create new flavours, designs and experiences, reimagining its iconic product in time-limited editions inspired by relevant moments across culture, music and gaming.
Coca-Cola Creations is an extension and expression of Coca-Cola's new Real Magic philosophy, bringing unexpected elements together to create something surprising and magical.
"As the no. 1 soft drinks brand in GB, Coca-Cola is more than twice the size of its nearest competitor – and within that, Coca-Cola Zero Sugar is a driving force as the fastest-growing major cola brand in GB retail (+16.5 per cent) and biggest contributor to cola growth (+£46.3m)," said Martin Attock, VP Commercial Development at Coca-Cola Europacific Partners GB.
"Innovations like Intergalactic give us an opportunity to drive excitement, talkability and momentum around the Coca-Cola brand – engaging new and existing shoppers with innovative flavours and experiences unlike anything they've had before."
Concert on A Coca-Cola
The Intergalactic cans will allow viewers access to the world's first "Concert on a Coca-Cola", featuring global popstar, Ava Max. The augmented reality (AR) concert can be accessed by scanning the QR Code on a Coca-Cola Intergalactic can, launching the Coca-Cola Hub where the performance will live. Other digital elements for fans to interact with include Instagram filters, ASMR experiences and more.
Joshua Schwarber, Senior Director, Global Digital Design, said: "For this first Coca-Cola Creation, we had the opportunity to ask ourselves what could space taste like, and we couldn't be more excited to introduce our first Coca-Cola Creation in Europe – Intergalactic  – our limited edition, space-themed Coca-Cola that aims to bring some of the magic and mystery of everything that we love about space to life with every single sip."
Coca-Cola Intergalactic is a limited edition, available in small volumes in GB to grocery, managed convenience, high street chains and some wholesale retail club members. Intergalactic is available in a 250ml can with an MRRP of 77p.