The household cleaning brand Cif is expanding its portfolio with two new fragrances for its multipurpose spray range – Lavender & Blue Fern and Orange & Lemongrass. The products join the brand's trusted line-up, which already comprises of the No.1 cream cleaner and No.1 bathroom spray in the UK.
On shelves in June, the new products tap into the growing shopper demand for multipurpose fragrance sprays, a category which has grown 18 per cent in the last year, as shoppers look for products which combine fragrance and efficacy. Following a year of development, Cif's new launches are set to drive growth in the household category by combining uplifting fragrance with a superior cleaning formulation that kills 99.9 per cent of bacteria and viruses.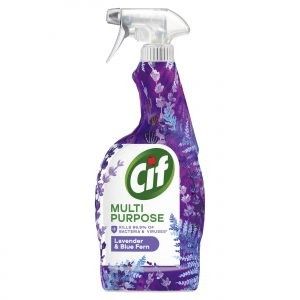 Following Unilever's Clean Future Strategy and the company's commitment to plastic reduction, the bottles are made from 50 per cent post-consumer recycled (PCR) plastic and are also 100 per cent recyclable. Cif's mission is to make the household aisle more sustainable and the brand is working towards making its products 100 per cent recyclable, reusable, or compostable and made from 100 per cent recycled plastic (PCR) by 2025.
"Cif has seen positive growth in the past 6 months and we're confident these new products will help drive growth of the household category," said Claire Racklyeft, Home and Hygiene Category Lead at Unilever UK&I. "We know that fragrance is an important driver for shoppers in the household category, so combining this with Cif's trusted cleaning efficacy is a winning formula. The new Cif Multipurpose Sprays offer an affordable option with fresh fragrance and a powerful formulation that kills bacteria and viruses. In investing in fragrance, we're investing in the category."
Cif will be running an above the line marketing campaign for the whole Cif brand from mid-May to September, keeping the brand front of mind for shoppers looking for their next household purchase.
The new Multipurpose Sprays are available for convenience retailers now