Pizza brand Chicago Town has announced the expansion of its  already popular ranges of Deep Dish and Takeaway, with three new products focusing on new trend led flavour combinations and premium toppings.
Recent research into food trends shows consumers are looking for elevated flavours, taking inspiration from big and bold sauces and seasonings from around the world, that offer a gateway to global cuisines and flavours.
Building on the successful launch of Deep Dish The Ultimate One range in 2022, two new flavours will add unique flavour choices aimed at younger consumers who are looking for a midweek treat. The additions to the award-winning Deep Dish range bring a first to frozen with the Be Inspired Deep Dish Katsu Chicken and Memphis Style BBQ Pork pizzas.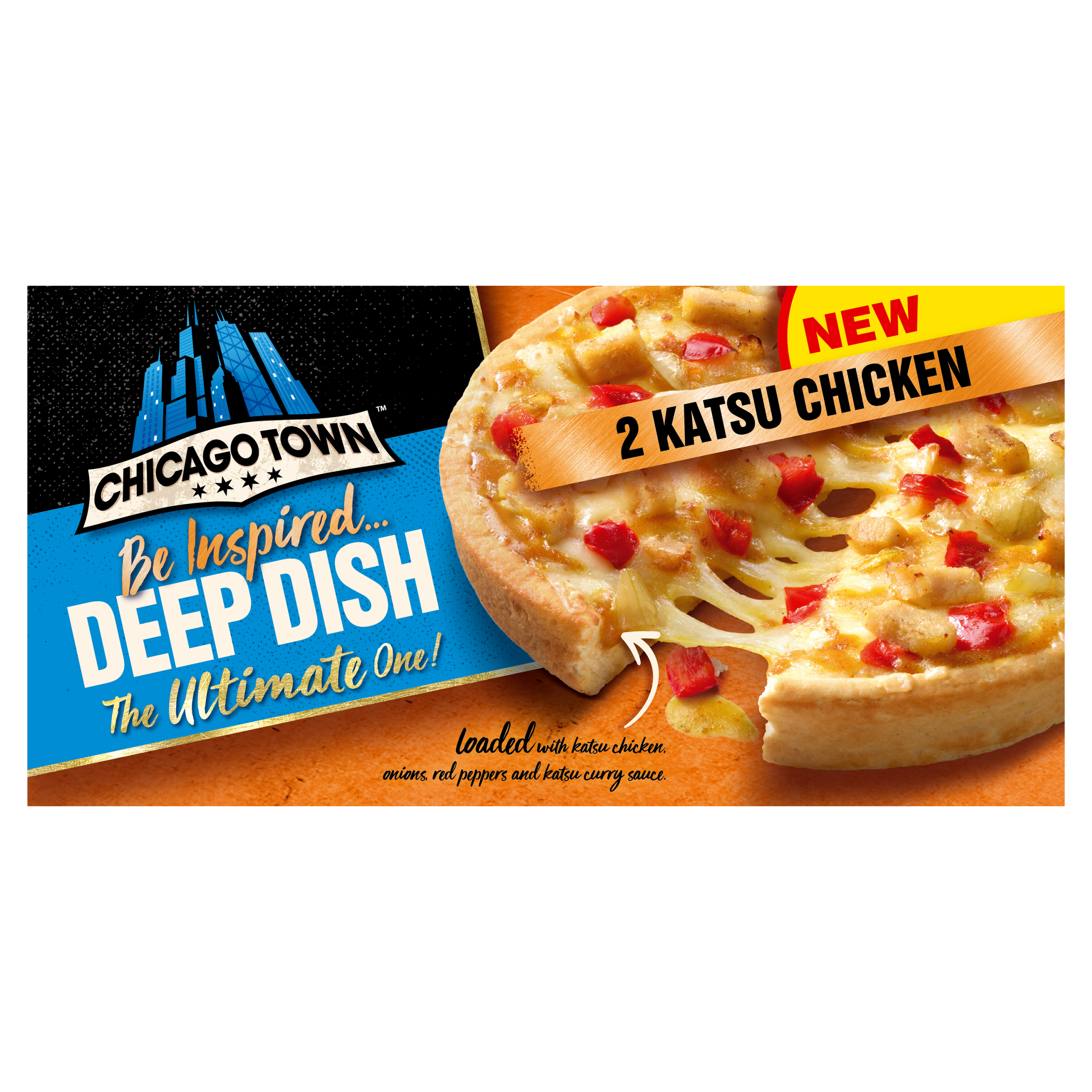 The new Be Inspired Deep Dish Katsu Chicken flavour combines everything that's great about the classic Deep Dish base whilst taking inspiration from trend led flavours from around the world. A first of its kind to frozen, topped with a rich Katsu curry sauce, the new Deep Dish offering comes fully loaded with onions, red peppers and Katsu Chicken pieces.
The latest temping addition to the Ultimate range, Deep Dish Memphis Style BBQ Pork pizza, offers consumers a taste sensation. It features melty mozzarella, sticky maple BBQ based sauce, red onions and Memphis style pork on a BBQ Flavoured Crust.
With a garlic and herb sauce that is a first for a frozen vegan pizza, the Takeaway Saucy Vegan Stuffed Crust Pepper-no-ni is the latest addition to the much-loved Takeaway range. Boasting a garlic and herb sauce filled crust and topped with vegan style pepperoni, it offers consumers a plant-base alternative indulgent pizza.
These latest innovations are set to keep Chicago Town at the forefront of category and front of mind for consumers, adopting a trend led approach with two firsts to the market from a frozen pizza brand.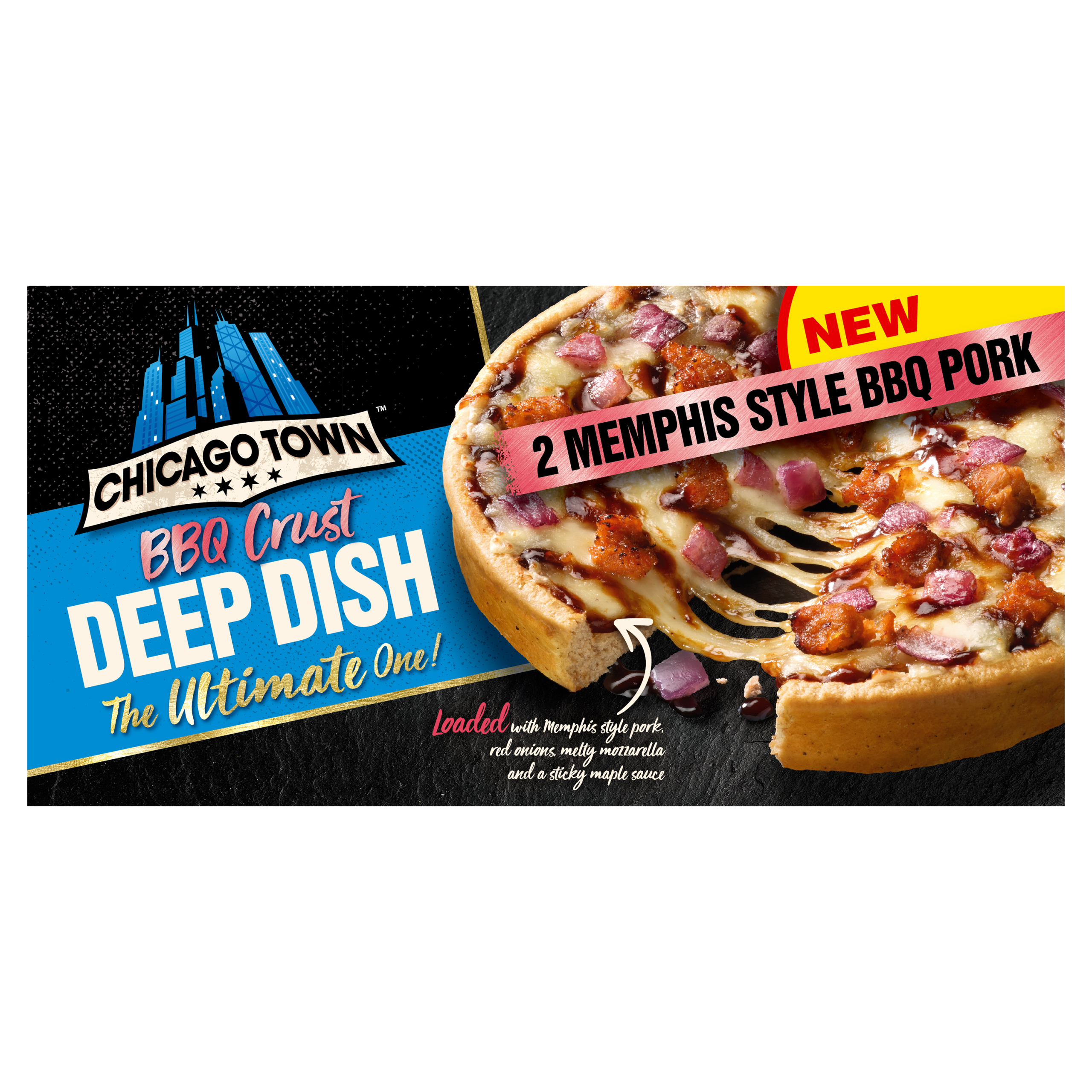 Committed to putting consumer feedback first, Chicago Town has also revealed the first Deep Dish addition to the range that has been developed following direct -consumer involvement. Earlier this year, Chicago Town invited competition winners the chance to go behind the scenes and have their say on the new inspired flavours for the very first time, resulting in the addition of the new Katsu Chicken flavour.
"We know that our consumers are extremely motivated by new and exciting flavours, looking for innovative options across our different pizza ranges," said Rachel Bradshaw, Marketing Manager at Chicago Town.
"We've invested heavily into research to be able to offer new trend-led concepts for consumers. This allows us to be the first to market in frozen category with innovations such as the vegan garlic and herb sauce stuffed crust and Katsu Chicken.
"We are delighted to be adding to our vegan offering and expanding our popular Deep Dish bases within the Ultimate range. Our aim is to convince more and more pizza lovers to look to frozen."
DEEP DISH – BE INSPIRED…THE ULTIMATE ONE 
RRP: £3.05 Topped with a sweet and tangy Katsu curry sauce and loaded with onions, red peppers and Katsu Chicken pieces. 
DEEP DISH – THE ULTIMATE ONE 
RRP: £3.05Fully loaded with Memphis style pork with a BBQ crust, red onions, a loada mozzarella and a sticky maple BBQ sauce. 
TAKEAWAY – SAUCY VEGAN STUFFED CRUST PEPPERNONI 
RRP £4.19 Featuring a first of its kind for frozen, vegan garlic and herb sauce stuffed crust topped with delicious vegan pepperoni, red onions, green peppers and a boatload of dairy free mozzarella.