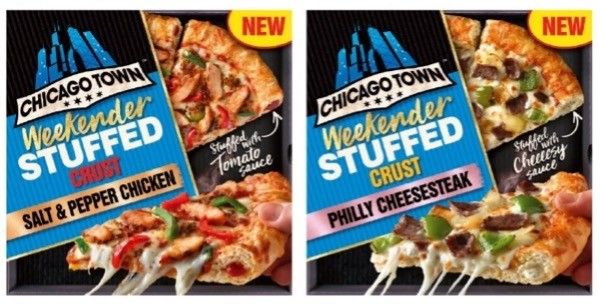 Leading frozen pizza brand Chicago Town has announced the introduction of seven new products to its popular range of Chicago-inspired pizzas, including new trend led flavour combinations, new bases and new premium toppings.
The brand said the innovations are set to keep it front of mind for consumers and keep category energy high. Chicago Town, worth £127.7m, has a market share of over 26 per cent in the total frozen pizza category, which is worth £474.8m and growing 1.9 per cent year-on-year (IRI).
First up, Chicago Town is introducing 'premium tiers' to its Takeaway and Deep Dish ranges. New to Takeaway, the 'Weekender' (RRP £5.73) delivers all the indulgence and taste of a takeout with two tempting new, first to frozen, topping choices, Salt & Pepper Chicken and Philly Cheesesteak at a fraction of the price of the high street.
New to Deep Dish, 'The Ultimate One' (RRP: £3.05) will bring two new unique flavour choices aimed at younger consumers who look for interesting and special ingredients. A product combining everything that's great about Deep Dish just made 'ultimate' – not just exciting new toppings but flavoured crusts to create something unique – Chilli Pepper Crust with Picante Nduja and Black Pepper Crust with Peppered Cheesesteak, all delivered within HFSS compliant formats.
The frozen pizza brand is launching an entire new range – a pizza with an innovative super thin and crispy base. Inspired by 'Tavern Style', a local favourite in Chicago, the unique 'Crispy Chicago Thin' (RRP: £5.19) is much thinner than anything on the market and loaded with delicious indulgent toppings, edge to edge.  Launching in Loaded Cheese or Sausage 'N' Pepperoni these sharing pizzas are perfect for that weekend together treat occasion.
And, with 74 per cent of weekend together treat occasions featuring sides and accompaniments for that ultra-indulgent experience, Chicago Town is introducing new Tiger Crust Cheesy Garlic Bread (RRP: £2.50). In a category currently dominated by own label, the new super tasty side offers a point of difference, featuring the brand's unique and much celebrated Tiger Crust base and allows Chicago Town to offer a fully branded solution for a weekend together treat or indulgent mid-week treat.
"Innovation is crucial to our brand growth strategy.  We know that consumers are really motivated by 'new' and look to Chicago Town for exciting new pizza experiences," Paula Wyatt, head of marketing for Chicago Town, commented.
"We've invested heavily into research, we regularly send our entire team to Chicago to gather first-hand insight and pull in pizza experts. This has allowed us to deliver our most ambitious programme of new products in some time, bringing first to the frozen category flavours like Nduja, Philly Cheesesteak and Salt and Pepper Chicken.
"We know more and more consumers are discovering that frozen food offers outstanding quality, great value and now more than ever can help manage household budgets.  Our aim is convince more and more pizza lovers to look to frozen."
Chicago Town is also investing heavily in reaching new customers.  Over the Summer, 75,000 samples of Deep Dish were given out to pizza and music lovers across 15 days at festivals up and down the country, including a festival exclusive, Sausage and Blueberry Deep Dish which blew up the brands' socials.
The new innovations will be supported by a heavy-weight marketing campaign which will see Chicago Town invest £3.7 million in 2022.  The brand will be back on TV in Q4, focused on football spots to link into the weekend together treat occasions. In addition, VOD, out of home spanning major cities, digital, shopper marketing, PR and commercial partnership campaigns will see the personality led brand dominate the frozen pizza category.