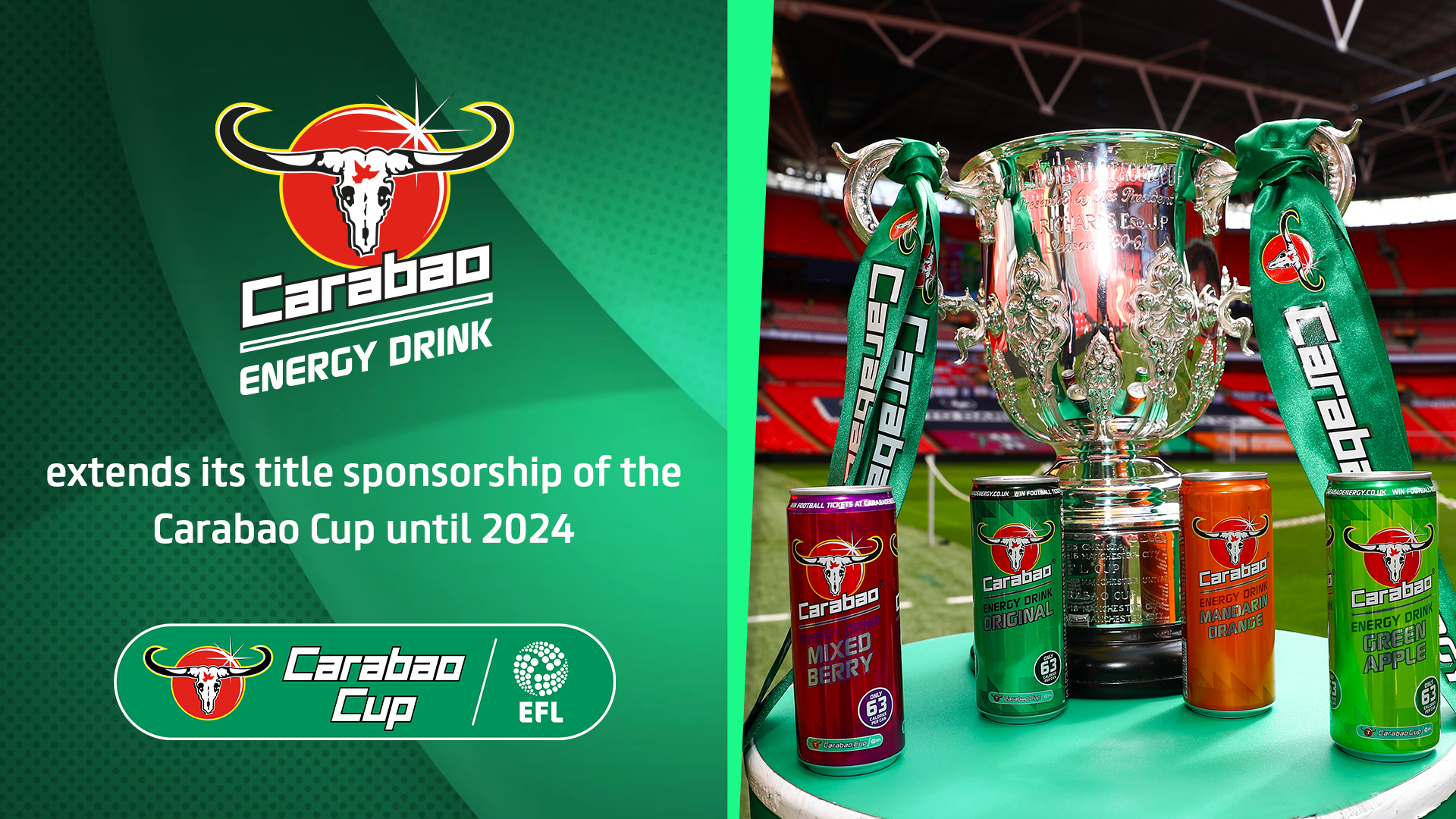 As the Round One draw for the 2021/22 Carabao Cup competition is made, the energy drink brand has announced it will further boost its commitment to the UK energy drink market via a two-year extension to its title sponsorship.
The Carabao Cup, now entering its fifth season, has been invaluable for the brand in establishing its presence here in the UK, as well as raising awareness for Carabao on an international scale. The title sponsorship gives Carabao unparalleled access to the 92 competing clubs, allowing the brand to ensure football fans up and down the country are aware of, and engage with, its range of delicious, fruity, low-calorie energy drink products.
Carabao's partnership with the competition has clearly had a positive effect on supporters, as research has shown that football fans are now 1.6x more likely to purchase a can.
With Manchester City dominant on the pitch, retaining the trophy for four consecutive seasons, off the pitch Carabao continues to breathe vibrancy into the competition. The energy drink brand uses it's bright-coloured cans to create a terrific spectacle at all Carabao Cup matches, with pitch-side LEDs broadcasting the Carabao brand to a global audience of over 100 million. Each competition culminates in a Wembley showcase – a 90-minute TV ad for the brand, where two teams battle it out for the first domestic football trophy of the season.
The brand has exciting plans for the future of the Carabao Cup, with a series of on and offline promotional activity for fans to get involved with, including match tickets, signed merchandise and "money can't buy" access to clubs including player meet-and-greets and training ground visits.
Speaking on the announcement, David Butcher, Managing Director of Carabao UK&I said: "As we move into our fifth season of the Carabao Cup, we're absolutely delighted to have renewed our title sponsorship for a further two years. The competition has been a fantastic asset for the brand, giving us the opportunity to grow our customer base in the UK, at the same time raising awareness for Carabao among football fans all over the world.
"We very much look forward to continue growing our relationships with the 92 competing clubs, as well as their supporters up and down the country until 2024," he continued. "Finally, we cannot wait to see fans back on the terraces for the beginning of this season's competition, or when it is safe to do so."