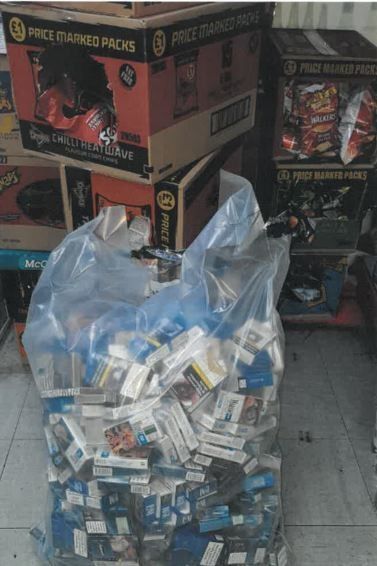 Councillors have revoked a premises licence for a Calderdale store following a request from West Yorkshire Police that it be reviewed.
Members of Calderdale Council's Licensing Sub-Committee heard the request to remove Abdullah Taha's premises licence followed visits by West Yorkshire Trading Standards and police in December 2020 to the Seven Days Mini Market at 226 Pellon Lane, Halifax.
These found illegal tobacco being sold from a hidden wall concealment and other products were located in a locked store room.
The police asked for the licence to be revoked on grounds of prevention of crime and disorder, because of organised criminality as an incident involved the sale of illegal cigarettes, public safety because the cigarettes did not comply with British Standards and were deemed a health risk to smokers, and protection of children from harm, as cheap cigarettes were more affordable and accessible for young people – all issues at odds with nationally set licensing objectives.
However Taha in a statement to the committee blamed a "rogue" staff member for the incident, and said his staff were trained and aware of their responsibilities with refresher training also undertaken.
He claimed he was unaware of the "secret" compartment which, in witness statements West Yorkshire Trading Standards regulatory compliance officer Jason Lee Bethell and Police Community Support Officer Julie Cartwright, described.
Bethell said on December 14 a trading standards officer had bought a counterfeit packet of Richmond cigarettes for £5 – the normal price for the item is more than £10, of which more than £6 is excise duty which in this case had not been paid.
Then on December 23 trading standards and police officers conducted an inspection at the premises and a large amount of illegal tobacco items were recovered from a wall concealement and a locked store room, the councillors heard.
Bethel said goods found were believed to be a mix of counterfeit and smuggled items.
Taha said if his licence was revoked he would struggle to keep the business going as it took 30 to 40 per cent of its trade from alcohol sales which went a long way towards supporting rent, bills and wages.
"I would not be able to sustain my business or the jobs of my staff without the premises licence," he said in his statement.
He said letters of support written by customers showed removing the licence was not going to do more for the three areas of concern the police had highlighted.
But, for the police, Matthew Dalton described the way products were hidden was "a very professional set up."
Committee chair Coun Dan Sutherland (Lab, Illingworth and Mixenden) said the committee found the licence holder "failed to provide a credible account" and agreed to revoke the licence.