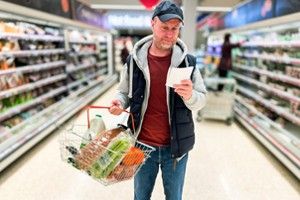 Britons are paying more for their everyday products like milk and baby food than other Europeans, as inflation chips away at household budgets, states a recent report.
An analysis of supermarket sales transactions shows the UK experienced the steepest increases across most of ten major product groups compared with an average of prices in Germany, France, Italy, Spain and the Netherlands, Financial Post stated on Saturday (20).
The report cited data by Circana to state that milk and cheese prices jumped the most in the year to March, but pet food, laundry detergent, infant formula and diapers also recorded more marked increases than in Europe.
Rising food prices have now replaced energy costs as the biggest cause of inflationary concern for the Bank of England. According to a research by the Center for Economic Performance at the London School of Economics, Brexit added an extra £5.8 billion to UK consumers' food bills in the two years to the end of 2021.
"There needs to be a laser focus on immediate issues and the drivers of inflation," says Karen Betts, chief executive officer of the Food and Drink Federation. "Action to fill labor and skills shortages and to simplify current and upcoming regulation, as well as simplifying post-Brexit labeling changes, would help to drive down prices."