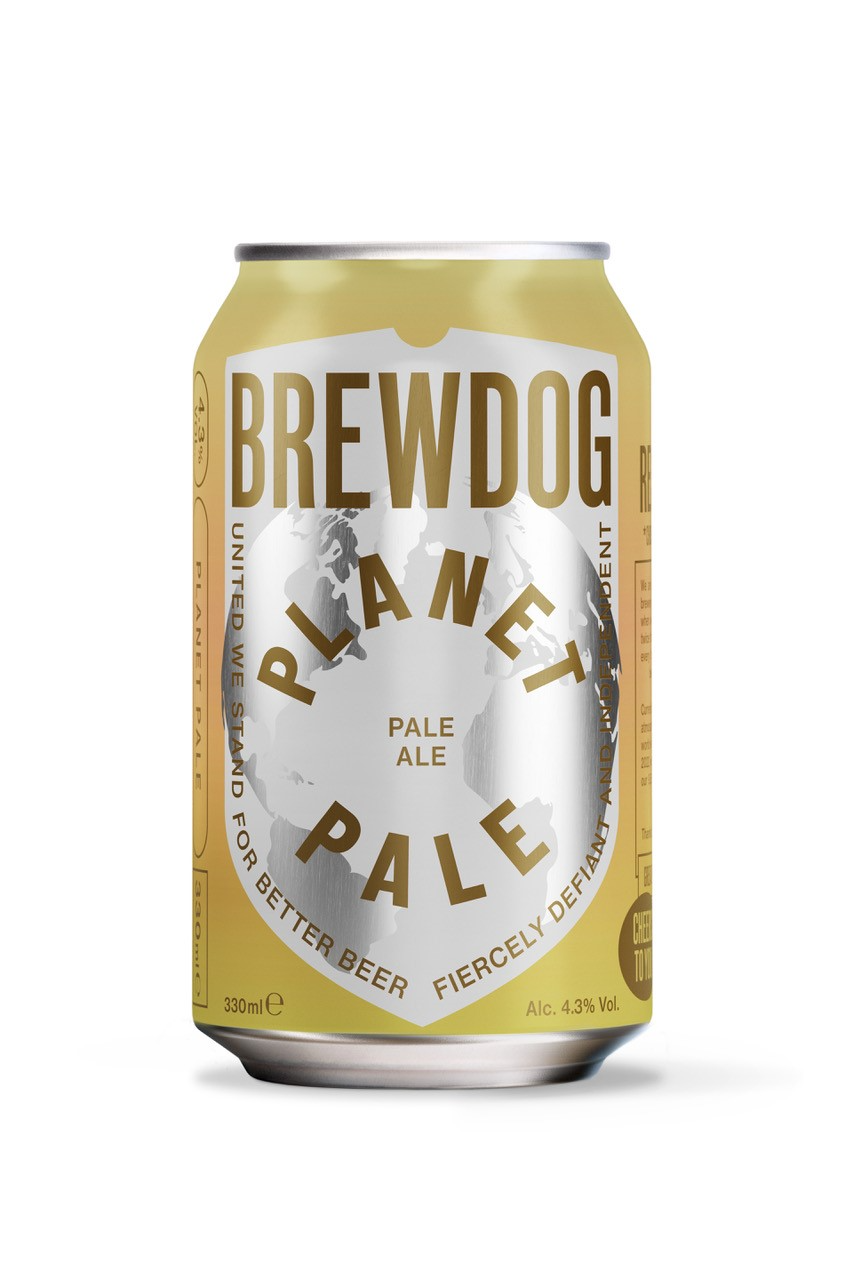 Continuing its mission to brew beer that is good for the planet, carbon negative brewer BrewDog has introduced new BrewDog Planet Pale (4.3% ABV).
Available now across grocery and convenience in 330ml & 440ml cans, f the new sustainable beer will join the core range and follows the re-launch of Lost Lager, earlier this year.
Creating an accessible offering with wide appeal, NEW BrewDog Planet Pale delivers session-strength fresh grassy hops with subtle tropical tones of pineapple and lime in the background. Featuring the classic hop combination of Citra and Mosiac, the liquid is a homage to the West Coast style, with a recessive pale and dry biscuit base, offering support to offset moderate bitterness while allowing the citrus peel to shine.
With craft beer continuing to evolve in the UK, increased penetration presents the biggest opportunity for category growth and pale ale is recognised as a key driver to bring new drinkers into craft. By providing an accessible ABV and taste profile BrewDog aims to make people as passionate about great beer and our planet as they are, with its latest launch.
The new product replaces BrewDog Pale Ale, with a new recipe and stronger brand proposition, to generate excitement and highlight the brewer's sustainability credentials.
"We want to make great beer that people love, whilst also being great for the planet," said Alex Dullard, Head of Customer Marketing at BrewDog. "Following the re-launch of Lost Lager in the Spring, we established that 70 per cent of beer drinkers are more likely to purchase a beer made in a sustainable way presenting a huge opportunity to grow frequency and penetration with a planet-friendly beer offering, that can be enjoyed responsibly.
"With its sub-5 per cent ABV, new BrewDog Planet Pale offers a solution for retailers that balances session-ability with flavour, providing the sweet spot for this style of beer. The redeveloped recipe packs a significant hoppy punch with a balanced malt base, while the name combines our missions for a greener future with our love of great beer. It is a simple nod to our carbon-negative credentials, coupled with the style … and does what it says on the can."
At 5.4% ABV, BrewDog Punk IPA remains the number one craft beer in off-trade, contributing 15 per cent of total category growth latest MAT vs YA and holds a 20.7 per cent share. Planet Pale aims to complement Punk IPA's success and delivers an opportunity to fill a gap in the category for a pale ale with a lower, more accessible ABV.
The launch will be supported by a full marketing roll-out, including digital, social media and in-store POS, featuring the strapline, "Enjoyed Responsibly Worldwide."
Formats available: 4pk 330ml, RRP: £5.00; Single 440ml cans, RRP: £2.25