BRC has called on shoppers to be "considerate" as government on Sunday (28) reimposed the guideline of face coverings being mandatory in shops and public transport as part of the tighter Covid-19 curbs being enforced in response to two cases of the new Omicron variant detected in the country.
The new measures have raised fears over another lock down during Christmas this year though both prime minister Boris Johnson and Health Secretary Sajid Javid have sought to downplay those worries and insisted the 2021 festive period will be better than 2020.
Responding to the announcement of new face covering rules in England from Tuesday, Helen Dickinson, chief executive of the British Retail Consortium (BRC) said, "Throughout the pandemic, retailers have made the safety of staff and customers their top priority. Over the last 20 months, retailers have done what is necessary to keep the public safe and will continue to implement all necessary measures now and in the future. 
"Retailers will be communicating the new rules on face coverings in England through in-store signage and other channels. However, it is vital that we do not place hardworking retail staff in harm's way, and enforcement of face coverings must remain the duty of the authorities. Furthermore, from tomorrow, we all have an individual responsibility to put on a face covering before entering a shop.
"Retailers have worked incredibly hard to get shops and warehouses prepared for Christmas despite a variety of challenges. While there may be small changes in the way we shop, we ask people to be considerate and we remain confident that everyone can get what they need for a fun and festive Christmas this year."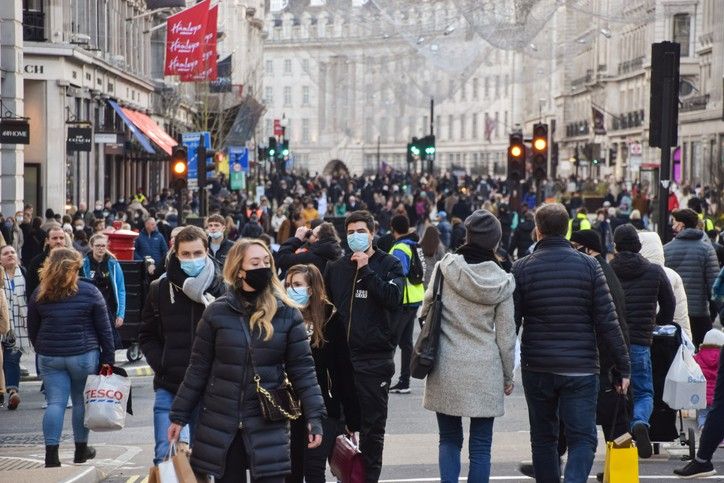 As reported earlier, from 4am Tuesday (30), face coverings will be compulsory in shops and other settings such as banks, post offices and hairdressers, as well as on public transport unless individuals are exempt from doing so.
The announcement came a day after retail trade union Usdaw had demanded that face masks for shoppers should be made mandatory again, after the Omicron variant of Covid-19 is detected in the UK.
Paddy Lillis – Usdaw General Secretary said, "There is no reason why, when lifting other Covid restrictions in England, the government could not have kept the requirement to wear a face covering in busy public places, like shops and public transport. This flip-flopping on basic and sensible Covid measures and the different rules across the UK create confusion, reduce compliance and can lead to conflict.
"Retail staff working with the public every day are deeply worried about catching Covid-19 and the arrival of the Omicron variant is a further concern. Wearing a face covering protects others, it should not be a personal preference, but a personal responsibility. The Government must be clear and consistent on it being mandatory and that shop workers are not expected to enforce the law on face coverings."