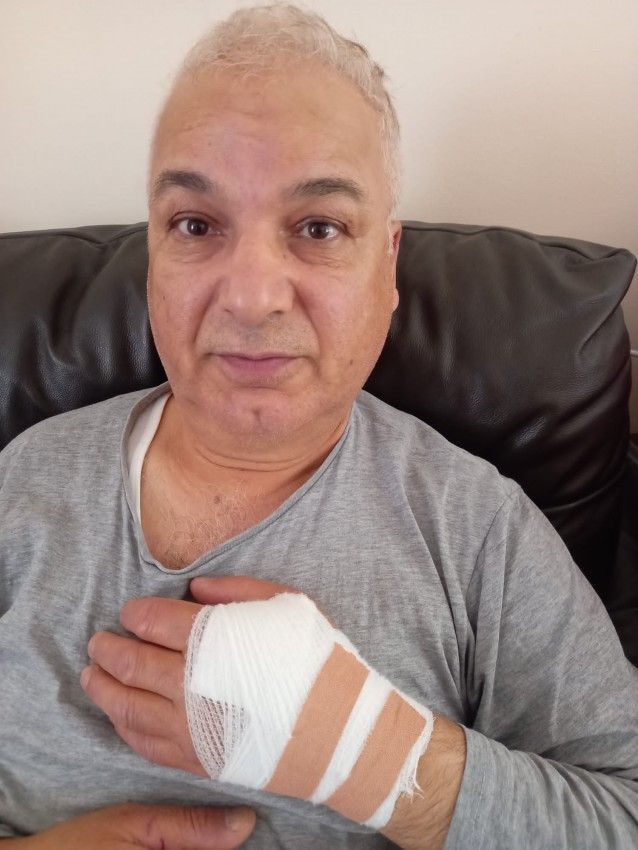 A Nottingham shopkeeper has suffered cuts to his head, hand and neck as he fought off an armed robber before his friend wrestled him to the ground.
Freydun Sakhi, of OK Food Store in Radford Road, Hyson Green, valiantly fought back after a masked man with a knife threatened him and demanded cash at the store at around 5.30pm on Sunday (1 August).
"The man came in with a knife and demanded money from the till. I grabbed a screwdriver to defend myself and then he came over and started attacking me," Sakhi said.
"He tried to stab me a few times but I managed to get the knife off him. At that point he picked up two bottles of Lambrini and smashed them both over my head."
The suspect then tried to flee but Sakhi's friend, who happened to be there fixing a leak, stopped him in his tracks and performed a citizen's arrest. The knife was taken off him and he was detained until officers arrived.
Father-of-five Sakhi said he felt "really dizzy" after being hit on the head, and couldn't stand up at the time.
"The police arrived really quickly and arrested him. I don't want him to do this to me or anyone else again so I'm pleased he didn't get away. My friend did brilliantly to stop him," he added.
Sakhi, 54, is now recovering at home having been discharged from Queen's Medical Centre, where he was treated for gashes and cuts to his head, hand and neck.
He said: "I can only afford to take one day off work because I have to pay the rent. If I don't work, I don't earn any money.
"I'm just lucky I wasn't more seriously injured. I've got five children and they're relieved I'm OK. They're not very happy that I fought the man, but I had to defend myself."
Detective Sergeant Lee Cattell said he was pleased a man was in custody and paid tribute to the handyman who intervened.
"This was an incredibly brave act by the shopkeeper's friend who put himself at risk in order to apprehend a suspect," he said.
"Clearly no-one wants to see hard working people who serve the community in a local shop being targeted in this way and it is really heartening to hear that this handyman didn't want to let the suspect escape after subjecting the shopkeeper to this horrific attack."
Cattell added that they have increased patrols in the area to provide extra reassurance to the local community after the "frightening" incident.
"While we would never encourage anyone to escalate an incident or put themselves in danger, the shopkeeper and his friend did a fantastic job and enabled police to take over, bringing the incident to as safe a conclusion as possible," he added.