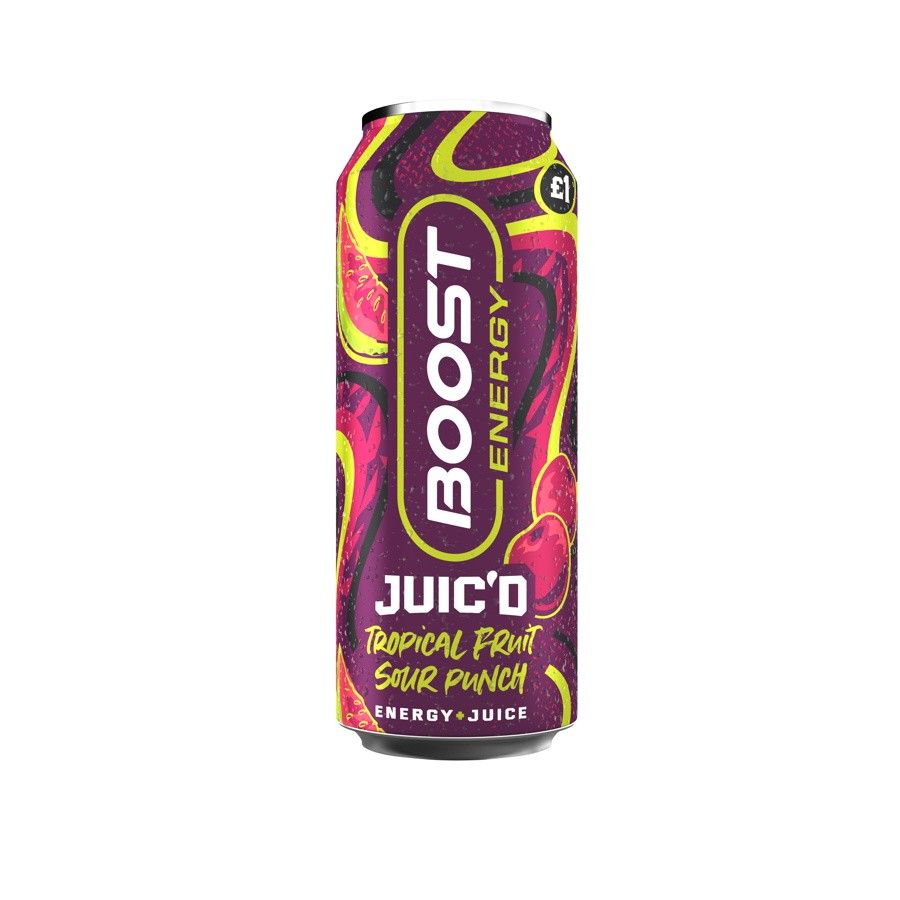 Leading functional drinks brand Boost Drinks has expanded its Juic'd 500ml range further with the launch of a new flavour – Tropical Fruit Sour Punch.
Boost launched the energy drink range in May with three flavours, looking tap into the current largest selling can segment. With sales of 500ml cans booming with a 28 per cent growth, the segment is the fastest growing category in energy drinks.
The brand said it experienced sales just shy of 20,000 cases in the first 3 weeks since launch, across four key customers, with sales showing no signs of slowing down.
Sunder Sandher, Store Owner at One-Stop Leamington Spa, said; "Boost Juic'd has been extremely popular in my store, in particular the Pineapple & Guava Punch which is our fastest selling line. It's magic one pound price mark on pack, is appealing to our customers, in particular students.
"I display the Juic'd range alongside other 500ml cans so consumers can decide for themselves if they want to take advantage of the unbeatable value. I urge other retailers to get the product stocked fast, due to its delicious taste and real fruit juice content, it's a no brainer for summer and beyond."
Adrian Hipkiss, Marketing and International Business Director at Boost Drinks, said; "Due to the unbelievable feedback and sales to-date of our new Juic'd range, we wanted to add a new bold flavour. The release has performed fantastically so far, which goes to show the value in listening to the huge demand from customers and consumers for a new brand in the 500ml can space.
"When surveyed, 74 per cent of consumers saw Juic'd as being something 'new and different' to the existing category. So, we're really excited for the launch of Tropical Fruit Sour Punch as we believe it adds something unusual and exciting to the existing range and the category as a whole."
The range is available to buy for just £1.00 RRP, with the goal of helping retailers to communicate great value on fixture, amidst increased consumer price consciousness, while still delivering excellent margins.
The brand will be continuing to activate a cross-channel marketing strategy with touchpoints across OOH, digital advertising, social media as well as a creative depot activation.
Boost Drinks' Juic'd – Tropical Fruit Sour Punch, Mango & Tropical Blitz, Watermelon & Lime Twist and Pineapple & Guava Punch are available in wholesalers nationwide in 12 x 500ml cases.