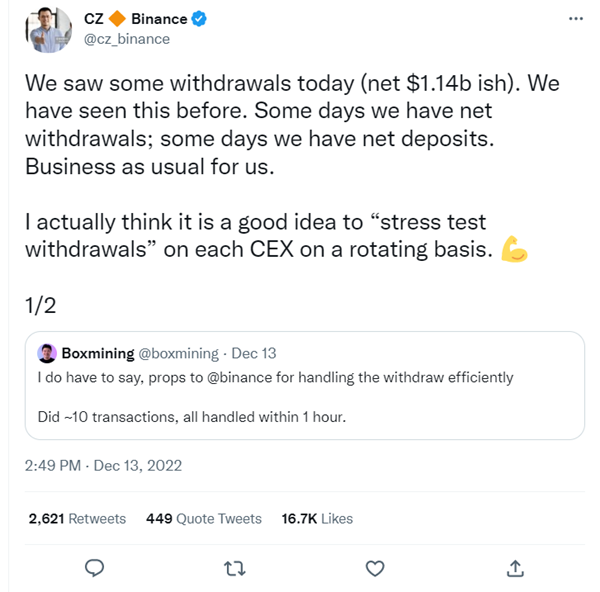 Binance CEO Changpeng Zhao (CZ), announced that about $1.14 billion in net withdrawals were made on last Tuesday.  The Binance exchange (Binance), the leading and largest exchange in the world in the field of digital currencies, is facing difficult times.
According to the blockchain analysis, the stock exchange faced the highest number of withdrawals in its history, when coins with a value exceeding of 4 billion were withdrawn from it since the beginning of the past week.
His statements come after Binance temporarily halted withdrawals of the stablecoin USDC on Tuesday while exchanging tokens. Zhao said that Binance has seen an increase in USDC withdrawals.
However, there were higher withdrawals in the Crypto stock markets when looking at the collapse of LUNA, in May this year, and the FTX disaster, which collapsed about a month ago.
"Binance will survive any crypto winter," CZ wrote in the memo.
The overflow of the open investigation at the Ministry of Justice along with the freezing of USDC withdrawals led to panic, but Zhao announced and tweeted that this was not "the largest withdrawal I have ever processed". The CEO release a reassuring letter to his employees, stating that deposits are returning to Binance.
CZ released reassuring letter to his employees
In the letter he released to employees, he stated: "You must have watched the news about Binance," he wrote. "The collapse of FTX sends echoes that bring greater criticism and difficult questions. The good news is that although the media reports do not always reflect this, we have answers to the difficult questions that are being thrown at us."
"We are in a strong financial position," he continues, noting that the stock exchange deals on a daily basis with withdrawals and deposits in excess of a billion dollars. "The users' assets are backed up at a 1:1 ratio and our capital structure does not include debt. We keep balances in hot digital wallets to make sure we always have more assets available than necessary to fulfil withdrawal needs and we make adjustments in these wallets according to demand."
The investigation by the Ministry of Justice
Two major reports alongside influencers who echoed them led to the wave of mass appeals and panic. The first is the report of Reuters that gave an update regarding the open investigation at the US Department of Justice. The investigators, who are examining Binance's involvement in money laundering, are debating whether to file charges against the exchange and its CEO.
This news along with the FTX case, led to great fears that CZ would be shut down and that the exchange would be facing troubles. It is not yet known what the insights and conclusions of the investigation will be.
Today, there are different platforms worldwide where users can trade Cryptocurrencies, however, it doesn't have to be in front of the actual exchange. Regulated stock brokers also offer different options for trading crypto with tools such as TradingView, MT4 and MT5. These can be found on easyMarkets platform that offers a free demo account, a maximum Leverage of 1:2 and no hidden commissions.
Along with the fear of the contagion effect of FTX, it should at this point, be used as a warning signal for digital currencies holders that store their cryptocurrencies in online exchanges over self-holding in a secure hardware wallet such as Ledger or Trezor.

About Binance
Binance is a cryptocurrency exchange. The company has been founded in China and its headquarters are located in Hong Kong. Binance has more than 100 million users from all over the world, including Japan, South Korea, Taiwan, Russia and many other countries. The trading platform offers dozens of digital currencies to trade on one website.
This means that you can buy Bitcoin or Ethereum quickly with fiat money (dollars or euros). In addition to this advantage, it also provides different types of payment methods such as credit cards and bank transfers.