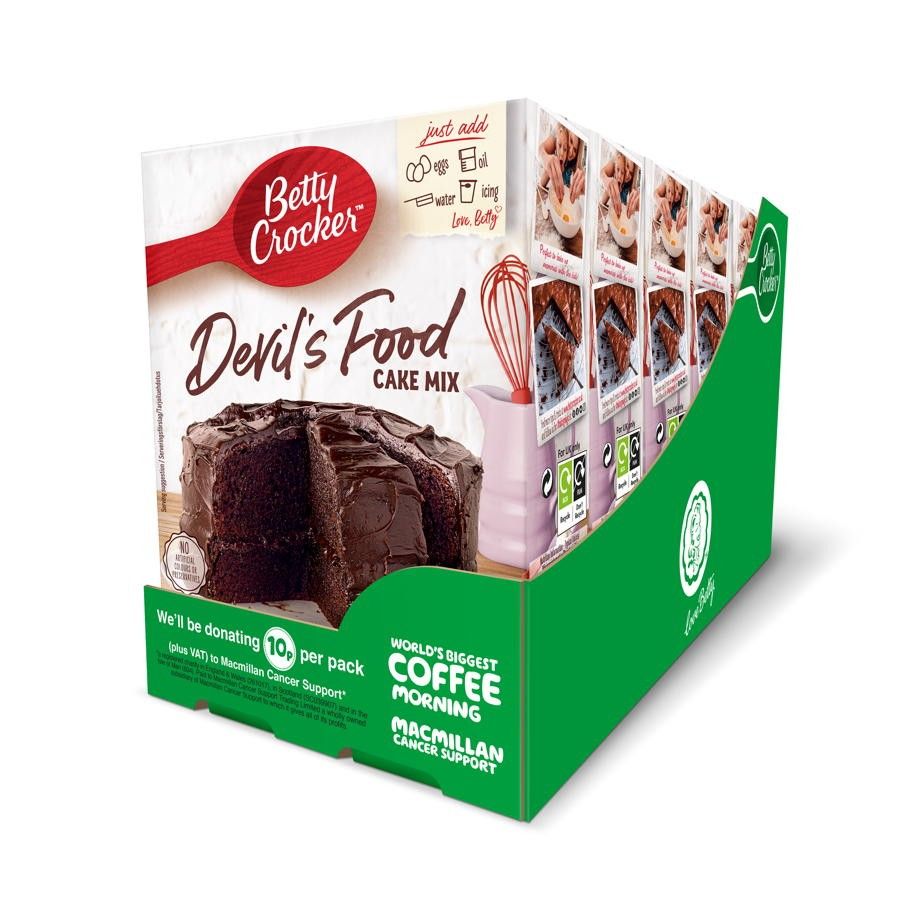 Leading baking mix brand Betty Crocker has announced a partnership with Macmillan Cancer Support's Coffee Morning.
Supported by Betty Crocker's new 'Bake a Difference' campaign, the tie-in will see the brand donate £100,000 to Macmillan Cancer Support through a 'one pack = one donation' mechanic across four selected products: Devil's Food cake mix, Chocolate fudge brownie mix, Chocolate fudge icing and Butter cream vanilla icing.
On shelf in the grocery and convenience channels and available online, the products will be wrapped in Macmillan Green Shelf Ready Packaging (SRP) to drive awareness. For every selected pack bought, Betty Crocker will donate 10p to Macmillan Cancer Support, for a total donation of £100,000.
The 'Bake a Difference' campaign, designed to encourage shoppers to get involved in a Macmillan Coffee Morning with the help of Betty Crocker, will kick off on 23 August and run until the event on 24 September. The activation includes PR, social media, influencer, e-commerce, and shopper activity.
Macmillan's Coffee Morning is a key baking occasion, driving home baking category sales up as people fundraise with cakes and treats. This is the second year that Betty Crocker has collaborated with Macmillan Cancer Support.
"Betty Crocker shoppers bake with purpose – whether that's a birthday, an event, cheering up a loved one or creating a reason to come together as family – and our partnership with Macmillan's Coffee Morning highlights another important reason to get out the mixing bowl," Maeve Judge, marketing manager, meals & baking at brand owner General Mills, said.
"The 2021 event will no doubt be extra special as people come together after an incredibly difficult 18 months. We're therefore thrilled to be involved and honoured to play our part in helping the charity continue its crucial work."
Retailers are encouraged to stock up on the Betty Crocker x Macmillan SKUs, as well as the wider range, in the run up to the event in line with anticipated spike in demand.