Students are in many ways the ideal customers for the independent retailer as they visit often, buy on impulse and try new things.
Also, young people often choose premium-priced products because they are the most brand-conscious demographic – making advertising and promotions particularly effective on good-margin skus.
"Advertising makes a lot of difference," says Ranjan Patel, Classic News, who sees further organically-grown sales as rife among the student population. "There are certain things you can't ever advertise too much, plus, with the youngsters, somebody would buy it and say it's nice, and then it's a word of mouth, isn't it? They would tell a friend."
Students are often away from home, often for the first time, and are looking for offers and bargains, new ideas and tastes, quick meals and snacks to fit in with hectic lifestyles, as well as products to share with new friends at the many social occasions that accompany all the hard, solitary (and also peckish and thirsty) periods of study.
It is not only convenience stores on or near traditional university campuses that stand to benefit from the new academic year: with colleges and institutions of further education in almost every town in the land, there is almost certainly a student population of some size and shape near to a majority of independent retailers.
So even if the freshers are not the biggest wave hitting your store this autumn, it is probably still worth thinking about the new (and returning) students, flush with their loans and keen to equip themselves for their new life experiences.
And of course student sales are from school pupils as well, not only university students, in the sense that they will come into store looking for drinks, snacks and confectionery throughout the academic year – and then school-kids even more so during the vacations (with time and pocket-money on their hands).
"We have the youngest students coming in," says Amish Shingadia of Londis Caterham. "As of the end of the school term, we actually run down a lot of stock. Then comes new term and we get new promotional lines. So we bring in new kids' sweets for them and rotate the stock every term. so that is how we try and get repeated sales from the kids because they are bored of the same sweets every term. The other thing we do is we have sugar-free slushie machines which does really well in summer."
Again, whether near a campus or not, it is worthwhile to keep the idea of students front-of-mind because that demographic is a great impulse customer whenever and wherever.
"One of the best-selling things for students in particular are the meal and combos kind of thing, a sandwich, a drink, and a packet of crisps, they're the best things to sell to students," says Bobby Singh of Holmfield Lane Superstore and Post Office."
He is keen on supplier support to energise further this great source of sales with promotions and deals.
"They should be giving us retailers good deals or combo deals where we do try and promote and put like a meal together for students etc. They can support us further by providing some kind of incentive to discount to support these meal deals."
Amish agrees and explains how he merchandises to students both young and older.
"For younger kids we talk about PMPs for a lot of our sweets and chocolates because it's easy for them to understand. We have a kids area in the store, so they go there and pick what they want. I think for the older kids, the students, who like alcohol and socializing, we have made different stacks throughout the year. So we'll have a lot more beer stacks around the store."
Winter as well as summer and slushies can continue with excellent sales: "In the winter for kids we find that actually they buy lots of hot food so we have sausage rolls and stuff for a pound and you're getting their price smart points through," says Amish.
Drinks for studying and fun
Clearly educational sales suffered under the lockdown, especially as there is such a large overlap with impulse sales. Students love their drinks and that sector was a bit dented, even though suppliers largely made up for it with bigger pack formats for stuck-at-home families.
Now, though, we are getting back on track for more normal sales patterns.
"Following a big shift away from face-to-face teaching and in-person socialising due to lockdown restrictions, the shopping habits of students have evolved away from on-the-go cans as we saw the sales of take-home formats (1ltr and multipacks) skyrocket," says Adrian Hipkiss, Marketing and International Business Director at Boost Drinks.
"Demand for impulse formats, however, is making a return," he affirms. With life starting to be normal again, "people are looking for snacks and drinks that can be consumed on-the-go for ease and convenience, and the local convenience store will often be the first port of call.We expect this growth trajectory to continue, particularly as students return to classes and can participate in social activities once again."
He stresses that impulse formats are very popular amongst students, both for the energy boost to fuel late-night study sessions and for sports activities. He adds that students generally lack their own cars, so smaller and more frequent trips to stores that are geographically convenient are naturally easier for them. Stock what they like to establish loyalty (Mango flavour is in, says Hipkiss) and pay attention to eye-catching PoS and offer as many promotions as possible – especially on RTD products such as Boost's Iced Coffee, Espresso, Lattes and Caramel flavours.
Heineken's Category and Shopper Marketing Director, Toby Lancaster, points out that the younger generation is keen on healthy living – which means they consume less alcohol and more alcohol-free products.
"This provides a unique opportunity for retailers who can respond to this shifting landscape by stocking a range of products that suit an alcohol-free or healthier lifestyle, such as Heineken 0.0 or Heineken UK's latest offering to the Cider category, Inch's, a vegan and sustainable offering."
"With teens I do agree with promoting healthier products because I think the nation is changing and for the better. I think manufacturers if they make things more, healthier, that's better," agrees Bobby Singh, who sees healthy sales with his young customers.
If you can foreground low calories and sugar-free options across many categories, not just low alcohol, you could well be on a winner with student sales, as Liliana Jaurequi, Brand Manager for the new soft drinks brand, Good Earth Kombucha, explains.
"Lower sugar and calories fit well with this group's needs, as well as offerings in the functional wellness space, such as energy and beverages linked to gut health," she says. "Increased popularity of plant-based diets is enhancing appeal of drinks with natural ingredients which can create opportunities for food pairings in store too. Social and ethical credentials are another important consideration. Gen Z and millennials are more socially conscious than previous generations and are happy to spend a little more on products that align well with their own values."
The end result is a refreshing 40-calorie premium adult soft drink with low sugar, that is vegan friendly and big on taste. Available in 275ml bottles and soon a 250ml can format, Good Earth Kombucha comes in three flavours of Natural, Ginger & Lemon,and Pomegranate & Blueberry (RSP £2.00). As it is ambient, Good Earth doesn't need fridge space and has a shelf life of 12 months–but it does serve best when chilled, and chilled, as we always say, is convenience's secret weapon!
Clark McIlroy, managing director at Red Star Brands, which has just launched its Four Loko RTDs, adds that although traditional alcohol might have taken a hit among young consumers, RTDs and flavoured alcoholic drinks are doing gangbusters:
"The category has performed well and there's been a steady uptake by consumers, with new products entering the market regularly and pushing the boundaries.According to data, the UK Flavoured Alcoholic Beverage (FAB) category grew by 23 per cent in 2020, and is now worth £382m, with convenience as the fastest growing channel for FAB – growing twice as fast as the market and three times faster than supermarkets."
He says that the future of RTDs looks strong, with the category set to take significant share from beers, wines and spirits – and Four Loko is launching a nationwide student brand ambassador campaign in time for the Freshers period, recruiting ambassadors in key influential cities across the UK, including Newcastle, Glasgow and Leeds and distributing product to students when they return to university through societies and sampling led events.
"By targeting students specifically, who are well known for their spontaneous decisions, independent retailers drive experimental and impulse buying decisions, while supermarket spend is often planned," said McIlroy. "Student consumers will be seeking easy to drink options with a good value price tag, and therefore will likely reach for more RTDs stocked at convenience retailers. In fact, recent data from Ireland suggests that sales of spirit-based RTDs spike at Christmas, demonstrating a clear seasonal consumption occasion."
"Freshers' Week is all about new beginnings," says Alison Gray, head of brand – WKD at SHS Drinks, "which is why it's important for retailers to offer relevant new products to students at the start of the academic year. Stores have one chance to make a great first impression with students; get it right at the outset and they might become regular customers for the duration of their studies."
WKD COCKTAILS launched to independents in July and WKD is the no.1 RTD in the impulse sector after enjoying a huge success in the on-trade.
Gray explains how the striking, stylised graphics generate strong shelf stand-out to resonate with shoppers. In Blue Lagoon (an alcoholic mix of WKD Blue blended with citrus, berry, and vodka flavours) and Tropical Sunrise (an alcoholic mix of WKD Orange & Passionfruit blended with citrus, strawberry, and vodka flavours), brand owner SHS Drinks has drawn inspiration from cocktail menus. It's just what new students ordered.
"Our new launches bring all the fun and enjoyment of cocktails from the bar into the home; we've done all the hard work so students don't have to worry about equipment, recipes or ingredients to mix the perfect drink," concluded Gray."Our new bottled cocktails are set to be a big hit with students and will deliver incremental sales for independent retailers and convenience stores."
Accolade Wine's Marketing Director – Europe, Tom Smith, points out that the popularity of trusted wine brands in convenience –Hardys, Mud House, Jam Shed, Echo Falls and Kumala among them – makes for great sales to celebrating students. And when are students not celebrating something?
"Alcohol remains one of the bestselling categories for independent convenience stores, particularly in those located near or on a university campus," says Smith."It is clear this a huge opportunity for retailers to make the most of and having a strong range of brands, price tiers and varietals can further boost sales."
It's the beginning of a life-long journey of learning and discovering for many, and introducing students to fine wines can be good for them and the retailer.
"Students will typically fall into the 'Newbies' segment of wine purchasers as the majority will be younger drinkers and new to wine," Smith explains."Whilst the range won't differ too much in campus convenience stores, price becomes more important to these shoppers so entry level and trade-up options are always a good idea, especially around the initial back-to-university period.
He says that a typical "Newbie" shopper prefers fruity, light, easy drinking wines from brands they recognise. "Millennials today know what they like and want a trusted brand, but they also like variety and to try something new. Rosé is a must-have in the fixture and the latest launch from Jam Shed is perfect."
He recommends Jam Shed Californian Rosé as refreshing and punchy, not only loved by students but also renowned as the perfect drink for the warmer months. Likewise Echo Falls, the UK's number one fruit fusion and flavoured wine brand (54% of the market)is perfect to appeal to students and hits the wellness and health buttons: Research has shown that 73% of NoLo drinkers buy wine and, Fruit Fusions 9.0% appeals to Echo Fall's core demographic of younger wine shoppers.
Not only that, Echo Falls has also launched its first ever Rosé Seltzers, intended to appeal to consumers looking to moderate their alcohol consumption and to capitalise on the category's continued growth.
Fighting tummy rumbles
Assuming most students will either not know how, or will not be very often bothered to scratch-cook, the opportunity for filling the bellies of scholars is a massive convenience opportunity.
"As students across the country return to university, retailers can cash in by carefully planning their ranges," says Calbee UK's commercial director Jon Wood. "Whether it be for study marathons or back-to-back lectures, students will be looking to stock up on great-tasting snacking products to enjoy day to day."
As a snackster, Wood is also aware of the seismic health shift from slob to superbod that is growing among the young."As we start to exit the pandemic, many students and young consumers will begin to embrace attitudes towards holistic health once again,"he says, and Calbee is onto it launching an innovative new range of plant-based products under the Harvest Snaps brand, which falls below the proposed government High Fat, Salt and Sugar (HFSS) restrictions meaning the product can still be merchandised in promotional display space after the new legislation comes into force in 2022.
This is something that will have to be considered and acted on across the snacks sector – and students will pay attention to it – as well as more traditional snacks, of course.
"Many students will be seeking variation post-pandemic and will be on the lookout for exciting new products. Retailers can capitalise on this by incorporating bold flavours as well as new product launches," says Wood. "Last year, we launched 'Loaded Fries', our first branded snack product under the Seabrook brand. The product brings a modern, on-trend twist to everyday snacks and is available in a 6x19g multipack, sharing bag and a £1 PMP bag. Seabrook is bringing bold and tasty flavours to snacks creating excitement in the category. Loaded Fries are available in Cheese & Bacon and Chilli Heat flavour."
Mango for drinks and chili (and lime!) for snacks are the exotic and hot flavour groups that seem to be becoming enduringly popular with the young.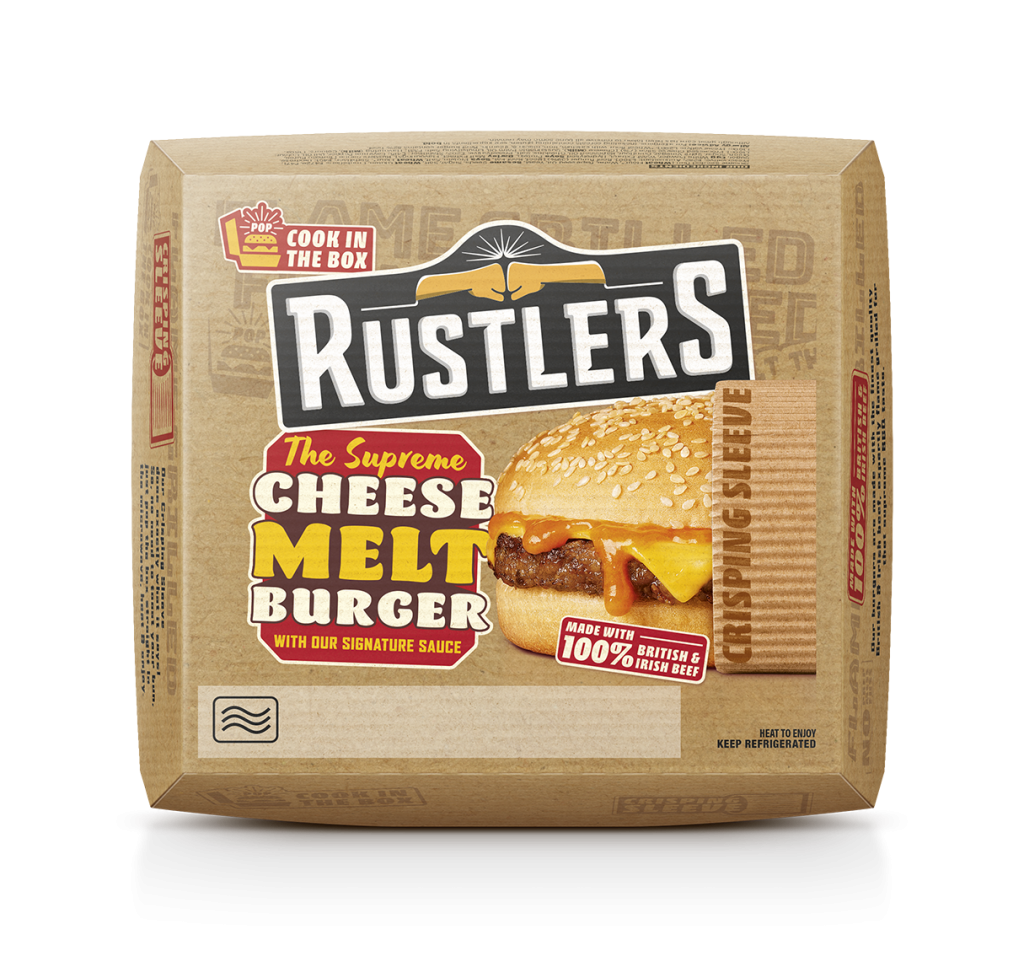 The other enduringly popular thing is burgers, and the faster the better – which is where Kepak can help out. Students and Rustlers go together like a horse and carriage: "The combination of a distinctive flame-grilled taste, quick cook time, competitive pricing, and standout marketing support is striking a chord with students and young adults, who are an integral part of Rustlers' core target market," says Kepak's Shopper Marketing Manager Monisha Singh.
She adds that retailers recognise Rustlers pulling power amongst young adults. "18 to 25-year-olds are extremely brand loyal, with high repeat purchase rates. Coupled with the fact adults aged 16-24 are the main consumers of Rustlers, convenience and independent retailers can stock Rustlers in the knowledge that it will appeal to young adults who shop there."
The recent availability of dedicated Rustlers microwaves in-store has only added to the magnetic attraction of burger and scholar – a match made in heaven, surely: positioned in Food to Go, Meal for Tonight or dual sited in store, Rustlers acts as a beacon brand in the convenience chiller, selling more than 2 packs every second in the UK. Monisha says that the Rustlers Quarter Pounder is the No.1 selling micro-snacking product in impulse (four a minute), and that the Rustlers All Day Breakfast Sausage Muffin has quickly become one of Rustlers' top-selling products, worth almost £2m in the impulse channel. And don't forget the BBQ Rib, worth even more at £2.5m in the impulse channel and in +15.8% growth YoY.
Preston retailer Vinay Mistry knows a thing or two about what makes students and young adults tick when it comes to quick, convenient snack and meal solutions. The Nisa retailer's shop is situated directly below the student halls at the University of Central Lancashire (UCLan), which is home to almost 40,000 students and staff.
"We've sold Rustlers for as long as I can remember," says Vinay, who currently stocks 8 Rustlers SKUs including the best-selling Quarter Pounder and All Day Breakfast Sausage Muffin.
"Rustlers products have always sold really well and being such a well-known brand, it acts as a bit of a beacon in the chiller. The range certainly delivers against expectations and it's no wonder they're one of my most popular chilled lines."
"You could say that students are a bit of a captive audience, but we have a residential shopper base too and they also buy lots of Rustlers," adds Vinay, enabling him to maintain strong sales of the £115.6m brand even when students are on holiday.
Vinay merchandises Rustlers in the chilled ready meals section and dual sites them when they are on promotion.
Snare those students
"In general merchandising is key," Bobby Singh sums up – especially with students."How you layout your store, how you layout your products is key for impulse buying. Whereas the normal shopper may want to walk around your store, have a look and take a little bit of time, students are very regular, and they know exactly what they want. The majority have like limited time as well, so always merchandise for their needs.
"For students, it's mostly alcohol, mixed drinks and confectionery," adds Ranjan Patel. "Sometimes they ask us for a deal, and we give it to them. We don't have any deals going in the shop all the time. But if they buy many, then yes, obviously, we would give them a deal."
"I think with the manufacturers we're giving the signals that the price point is quite crucial because it is causing PMPs on the grocery like noodles and stuff like that," adds Amish Shingadia, refencing the eternal student staple.He thinks suppliers should do all they can on PMP offers for students – but for retailers, too. "I would say try and find a replacement that's cheaper for the customer but also not bad in margins for the retailer."
That would make everyone happy.