This might be a good time to consider in general terms what the future shape of UK forecourts might look like, following a year of yoyo-ing fuel sales due to the lockdowns, which has meant the alternative services and reasons for the existence of petrol stations have been wheeled to centre-stage.
Asian Trader looks at forecourts from the perspective of the convenience sector, of course: how far is a gas station similar to an independent grocery store; how is it becoming more or less like one at the same time that c-stores themselves are morphing into something new and strange and fabulous? In an age of food to go (FTG), will convenience eat forecourts or will forecourts gobble up convenience?
And what will happen about the UK Government's commitment to ban the sale of new petrol and diesel vehicles by 2030, and its proposed £1.3 billion investment in electric charging infrastructure? Is this transformation plausible, with the UK's domestic energy infrastructure already almost on its knees, and no convincing future policy plan in sight? Or is it just an electric white elephant? Do people actually understand where electricity comes from? And do they also understand the ecological illogicality of using Chinese batteries manufactured using energy generated by the filthiest of coal power-plants?
In December the first electric-only forecourt in the UK opened near Braintree, Essex,with another 99 planned to be built in the UK over the next five years by energy company Gridserve. That compares to 8,380 traditional forecourts – in 1990 there were 20,000! – only a smattering of which already have charge-points. The new electric fuel-station can serve around 40 customers per hour, compared to an average forecourt's 400. That will be interesting.
The complete conversion of the UK to electric vehicles (EVs) is clearly a long way off, and it will be interesting to see how the UK public debt situation, which has worsened incomparably over the last year, upsets future investment plans, especially with the vast majority of UK drivers resolutely skeptical about the practicality (although perhaps not the virtues) of EVs.
If electric mobility takes off in a really transformational way, how will it affect forecourts? You can get electricity almost anywhere, after all, and it might seem silly to have to visit a "hub" as you did when accessing gasoline. If the government disperses charge points to residences, streets and charged – in both senses – parking spaces, for example, does that effectively disintermediate the fuel-hub model?
And is electricity the only energy option? Volkmar Denner, CEO of Bosch, recently criticised the EU for its EV "fixation", arguing that saving the planet is not necessarily about the end of old-fashioned engines and that other perfectly viable low-emission alternatives to gasoline, such as hydrogen , are being ignored: "[Climate action] is about the end of fossil fuels," he said,"and while electromobility and green charging power make road transport carbon neutral, so do renewable fuels."
Never mind. We wrote two years ago that there were over 4,000 public electric vehicle charging points in the UK and that this figure was expected to increase to 7,900 "soon". Nissan predicted that "public electric vehicle charging points will outnumber traditional filling stations by the summer of 2020," and today in 2021 there are indeed more than 35,000 charge point connectors across the UK in over 13,000 locations –"That's more public places to charge than petrol stations, with around 7,000 charge point connectors added in 2020 alone," according to EDF Energy – the USA can only boast slightly more (41,300). In the UK, at least, EV progress is being made and it remains to be seen what that means for the forecourt model.
But for the time-being we still have something like 99 per cent traditional internal combustion (IC) cars on the roads and they get thirsty, just like their drivers and passengers, every few hours. As a sector of convenience, the forecourt trade in the UK is a vital element of the grocery industry – and increasingly its allied services, such as post offices and pizza. Those elements, together with the new "live locally" ethos bestowed by the pandemic, will probably only get bigger and more important, changing the complexion and fortunes of forecourts for the better – at least in the medium-term.
An important storefront
Something like 30 per cent of independent forecourts are family businesses inherited by their current operators, and 87 per cent of these independent owners operate just one site. The entire forecourt sector provides a significant slice of employment – about 91,000 jobs – and unlike the Asian predominance in c-stores (where in London it is nearly 75 per cent) the proportion of forecourts owned by "white British" is over 70 percent – the rest, 28 per cent, being almost entirely Asian, and this could well rise as convenience merges somewhat with forecourts as grocery and FTG sales increase, and Asian entrepreneurs move in (looking at you, Issa bros, buying up Asda).
Another fact of relevance for the convenience aspect of forecourts is that over 7,300 have shops, ranging from "kiosk" to mini-supermarket, and these are fast and often becoming the focus for local shoppers in many locations where the forecourt is the most convenient destination – closer than a larger supermarket in a rural or residential area, for example. This means that the scope for grocery (together with general household goods, which have seen booming forecourt sales during the pandemic), is enormous. This potential is amplified by the possibilities of FTG sales, which have survived the Great Commuter Vanishing during lockdown, to emerge with a range of new "fairground attraction" fixtures to attract shoppers who might be filling up themselves rather than their vehicles.
The fact is that 44 per cent of forecourts have no other retail or service situated nearby, and a further 33 per cent only have five or less. That means around 80 per cent of forecourts are pretty much standalone and have the potential to monopolise sales in categories needed in a locality, but which are as yet uncatered for. As margin from gasoline is negligible, with fuel serving as an enticement for other sales (the average forecourt shop basket is £6.64 with a lot of headroom), the incentive to provide a magnetic range of higher-margin goods and services – with FTG primary among them – is immense.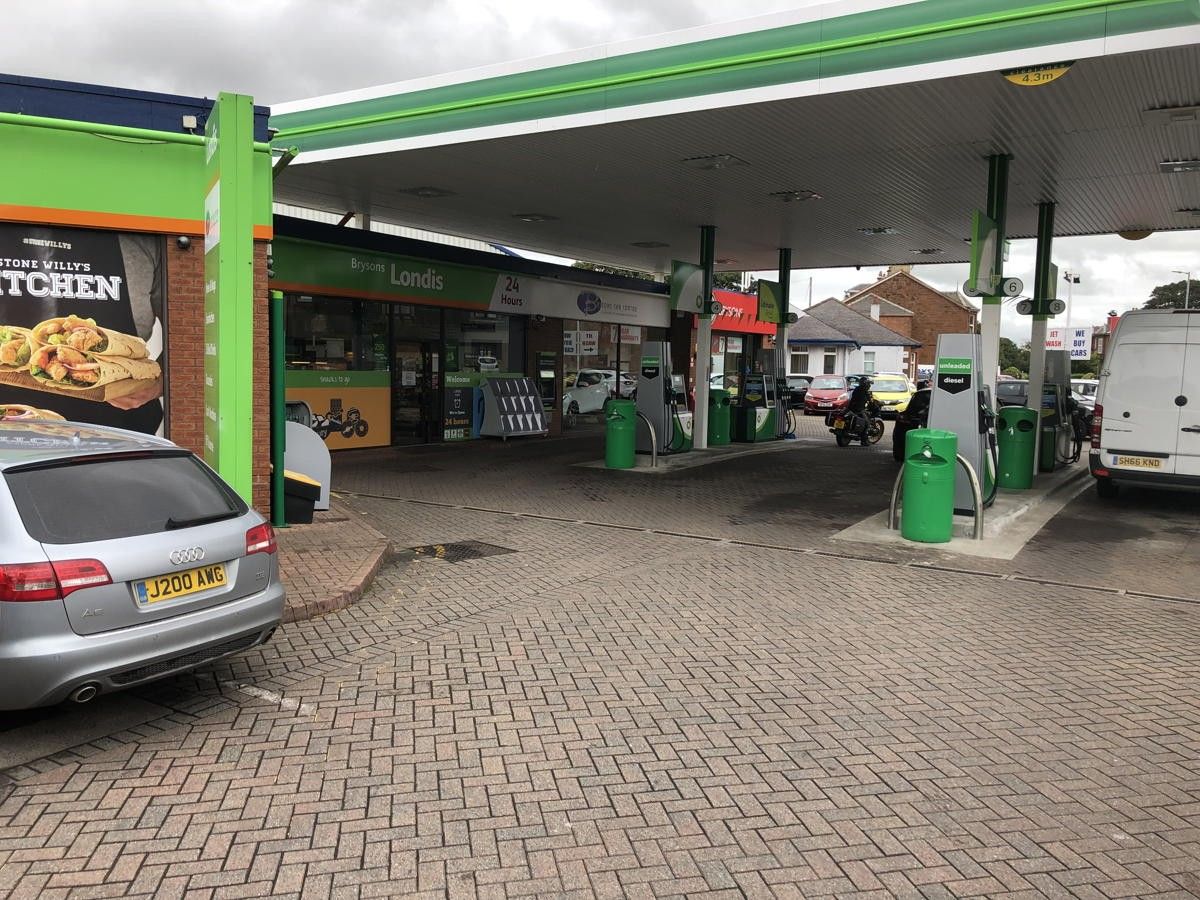 "The forecourt market is in growth and is set to grow by 3.8 per cent, ahead of the 3.2 per cent forecast for the overall convenience market," says Kenton Burchell, Trading Director at Bestway Wholesale. "Overall forecourt outlets have declined by 0.2 per cent, but there has been a rise of 1.5 per cent where there is a convenience store."
That might not sound dramatic, but is actually a seven-fold rebalancing at the margin in favour of colourful forecourt-convenience, away from the antiquated "blacksmith's forge" village fuel-pump model, which perhaps sold de-icer, odd fan belts and a chamois leather.
The outlook is positive in terms of gasoline sales attracting customers, and that in turn is down to the pandemic, as people turn to their cars and shun the risks of public transport: there were recently an unprecedented seven million driving licence applications pending, and that is obviously the younger generation passing up the offer of trains and buses. These are the same future customers who will want Costa Coffee, F'Real milkshakes and a trip to the deli counter or Rustlers microwave (as well as loo roll and John Innes No2).
As lockdown conditions eased after April 12, gasoline sales accomplished 89 per cent of their corresponding week pre-lockdown level, gaining an average 12.5 per cent in a single week (to 18 April) according to figures from the Department for Business, Energy & Industrial Strategy (DBEIS). Clearly, the nation is keen to get back behind the wheel, even if not back on the tube.
There are also drive-thru possibilities to complement the customers who park up to refuel, and the latest trend for Delivered Convenience could have been dreamed up especially for forecourt sites, where a storeroom and loading bay could easily be put up on the extra and often unused space where a workshop or car-wash used to be.
If you add in Amazon and Hermes pick-up, a post office counter, maybe dry cleaning drop-off and key-cutting, a weekly haircutter visit and who-knows what else, a forecourt really could be a convenience and service hub instead of simply somewhere to fill the tank and the belly.
"Petrol stations have the real estate but they just need to reconfigure it to show changing needs. The pandemic has enabled petrol stations to survive beyond what looked like doom and gloom," said BP's eMobility innovation director, Sophia Nadur, recently.
"Serving your local community has never been so important," agrees Burchell. "Food to go and chilled foods are always a key to a successful business, food to go and takeaway have seen growth, along with the need for home delivery. Alongside this we have seen the acceleration of digital and smart technology and its use by consumers e.g. online ordering and apps."
He also says that there is huge scope for improvement, as the mentality changes from simple retail to service and maximising customer experience: "Businesses always need to be looking to improve. Today's consumer expects as a minimum great customer service, high store standards, the best hygiene (toilets, functional and immaculately clean).
"Retailers need to focus on what is right for customers by offering the right product at the right price. They need to embrace the reality of electric cars and charging points with purpose-built sites, incorporating cafes, and maybe consider elements such as gyms, workstations etc."
Practical forecourting
We talked to Nisa, who actually have around 200 forecourt sites among their 2400 stores, to get a look at what taking on a forecourt fascia really feels like and what is involved. Last year, even during a pandemic, Nisa added 60 forecourt sites to their estate.
They said that retailers have the option to operate under a symbol fascia, Nisa Local, Nisa Extra or Nisa Express, or they can go "dual branded", whereby a Nisa partner can maintain their own identity whilst also benefiting from the Nisa brand. Alternatively, a retailer can trade under their own independent branding.
Nisa's latest fascia development, Nisa Express, provides a dedicated fascia option and store format for forecourt and smaller convenience sites up to 1,000 sq. ft, offering three unique format options – forecourt, food-centric and essentials – each with a design and range tailored to the store's specific market.
The new forecourt format ensures all key categories are included for on-the-go and impulse shoppers, including FTG, a vended coffee solution, comprehensive snacking range and a core offering of products to satisfy a top-up customer mission.
Delivered by Nisa, its retailers have a range of more than 13,000 SKUs, including over 2,400 Co-op own-brand products, that offer a recognised quality brand for shoppers. They say the roll-out has been a big success and has included Co-op's extensive festive product range and the innovative plant-based GRO range. Nisa has also announced an improvement dramatic for H2 2021, a new electronic proof-of-delivery system (e-POD) that will enable a simpler paperless sign off process on delivery.
New Nisa forecourters are provided with a complete support package comprising a strong retail focused team, a staff training facility and a comprehensive marketing package incorporating social media and PR support, bespoke leaflets, point of sale material, a personalised Nisa FM radio network and national advertising – as well as a dedicated induction team to support them during their first 100 days.
Data reveals that forecourt owners investing in new and upgraded stores are enjoying average sales uplifts of 12 per cent.
---
John Stevenson, Stevenson Forecourts of Northallerton, says:
"We joined Nisa in 2010 and were developing one of our forecourts we've had since the mid-80s. We were looking to change our supply partner to one who could supply the best products and range to maximise store turnover.
At the time, Nisa supplied us with a store turnover report, looking at the demographic and competition in the area. Basically, report that Nisa produced we were able to determine the retail size that was required, so we ended up with a 3,000 sq. ft. store, and because it was a good turnover figure from the demographic report we were able to design the merchandising to maximise turnover of the store.
I'm pleased to report that all of our stores are performing as they were predicted to. My family's been retailing in petrol for over 40 years now and we've really been able to personalise the store with things that were important to us and how we wanted it to look. This is our first store that we've put a Subway in – we're now seeing people come trolley shop in a forecourt, get a coffee and now that we've got a Subway, sitting down, taking half an hour out, using the wi-fi. Our forecourts are evolving, they'll always evolve and providing we embrace this we should always stay relevant."
---
In the end, though, perhaps the most "electrifying" conclusion is one we highlighted in our last forecourt report: that FTG is the new fuel, along with all the other household needs that can be sited in a relatively spacious local hub you can drive to and charge or fill up at. Thinking again of Blackburn's dynamic duo, Mohsin and Zuber, with their takeover of Asda (currently under review by the CMA) and their outright purchase of healthy fast food chain Leon a few weeks ago – not to mention their attempt to grab Caffè Nero last November – and it really does appear the writing is on the wall.