Danish chocolatier Anthon Berg has unveiled its range of premium Christmas gifting confectionery.
The brand, distributed in the UK by World of Sweets, has launched two Anthon Berg advent calendars ahead of the festive season alongside its range of chocolate liqueurs and marzipan.
The two new advent calendars, the Anthon Berg Chocolate Liqueur 24pc Advent and Marzipan 24pc Advent are luxurious calendars perfect for those indulgent Christmas moments.
In the Chocolate Liqueur Advent, a premium chocolate liqueur bottle featuring a world renowned spirit brand is sealed behind each day.
The Marzipan Advent, designed in striking pink and gold, hides a delicious, handcrafted Anthon Berg marzipan chocolate to enjoy each day.
RRP for the calendars is £21.99.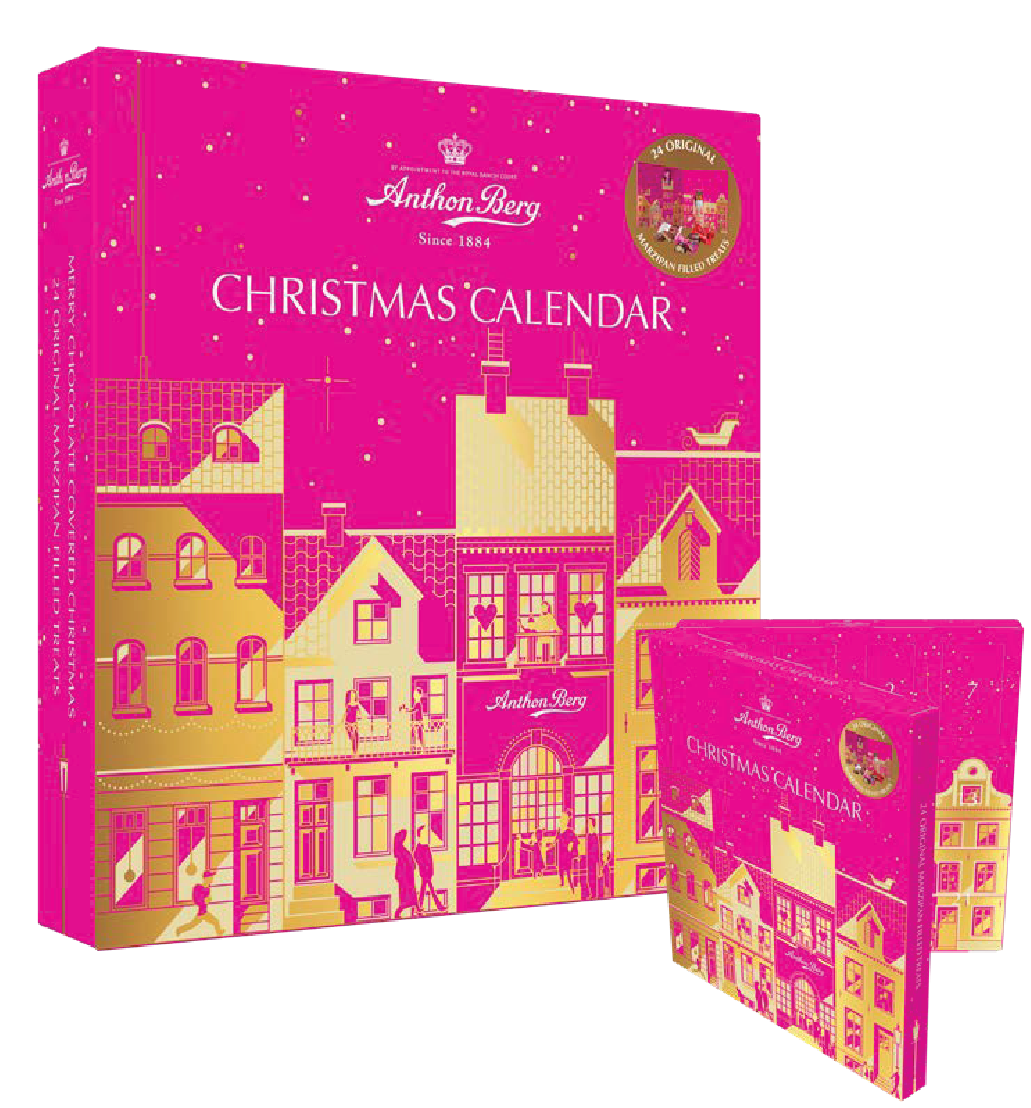 For customers looking for luxurious Christmas gifts, the Anthon Berg range has something for everyone.
The high quality Chocolate Cocktails are created by Anthon Berg's team of chocolatiers who've produced delicious dark chocolate bottles filled with smooth liquid fillings inspired by cocktails from around the world.
They have worked with expert mixologists to develop the delicious cocktail recipes including Cosmopolitan, Mojito, Espresso Martini, Vodka Mule, Pina Colada and Lemon Drop.
The iconic Chocolate Liqueurs are bottle-shaped dark chocolate filled with famous liqueurs from across the globe.
Among the tasty tipples are Cointreau, Famous Grouse, Drambuie, Remy Martin and Grand Marnier with fruity whisky liqueur Southern Comfort being introduced for this Christmas.
The chocolates are available in four, eight, 12, 14, 16, 21 and 24-piece formats making them the perfect gifting item for Christmas, giving retailers and their customers increased choice.
The RRP for the Chocolate Liqueurs and Chocolate Cocktails start from £3.79 for the four piece option, £6.49 for eight pieces, £8.99 for 12, £10.99 for 16 pieces.
The Chocolate Liqueurs also come in 21 and 24 piece gifts priced at £13.49 and £19.99 respectively.
The Single Malt Scotch Collection is a popular Christmas gift. Anthon Berg has teamed up with five renowned Single Malt Scotch Whiskey brands to create these delicious liqueur filled chocolates.
The RRP starts at £4.99 for the five piece selection, £8.99 for the 10 piece gift and £13.49 for the 15 piece collection of chocolates.
Other popular Anthon Berg Christmas gifts include the Fruits in Marzipan. This delicious range is a collection of individually wrapped dark chocolate discs with a tasty almond filling and a fresh fruit jam with liqueur.
Among the flavours are Cherry in Rum, Raspberry in Orange, Apricot in Brandy, Blueberry in Vodka, Strawberry in Sparkling Wine and Plum in Madeira.
RRP for the 220g boxes of chocolate Fruits in Marzipan is £7.99.
Also available are Chocolate Liqueur Blocks and Pouches and Chocolate Gift Boxes.
Anthon Berg was founded in 1884 and is the world's leading liquor filled chocolate brand. It's been owned by Toms International, a Danish confectionery producer since 1954.
"We're delighted to be bringing Anthon Berg's Christmas range to retailers from grocery, high street, garden centres and farm shops across the UK," Chris Smith, partner brand manager at World of Sweets said.
"These are a real draw for customers – they look great on shelf, have a luxurious, decadent feel and are perfect for big gifting times of the year like Christmas.
"We're expecting the two Advent Calendars to be very popular with retailers and their customers.
"Advent calendars are a massive draw in the run up to the festive season and who wouldn't want a tasty chocolate liqueur or marzipan fruit to indulge in the run up to the festive season?"
World of Sweets, the UK's largest confectionery supplier, offers a world of distribution solutions from e-commerce sites serving 55,000 customers per week to Hancocks wholesale stores with over 22,000 customers, field sales and a direct to store team covering 36,000 independent customers and a national accounts team covering all UK retail channels.