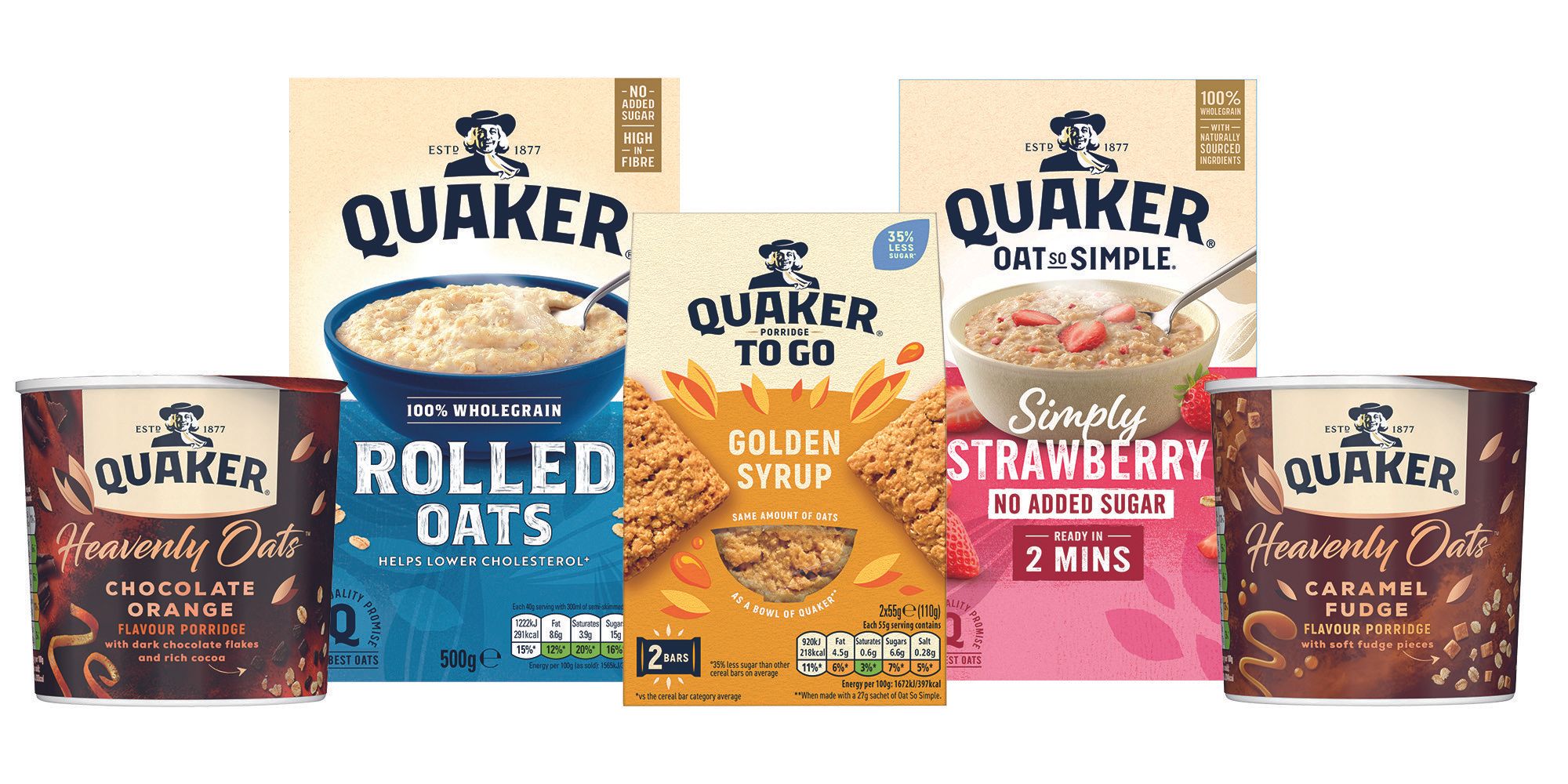 Quaker has announced that the vast majority of its range (98.6 per cent) will be non-HFSS by the end of October, including the brand's hot cereals – which form seven of the top 10 SKUs in this segment – and Porridge To Go ranges.
The move to non-HFSS is the result of extensive reformulation across the range. Following testing of the new non-HFSS Golden Syrup product compared with the previous recipe, consumers shared that they prefer the updated version, highlighting Quaker's commitment to driving innovation within the category.
As part of its mission to deliver tasty and health-driven breakfasts, the brand has also recently launched four non-HFSS NPDs to drive excitement within the Cereals category. This includes two new flavours of its Heavenly Oats pots – Chocolate Orange and Caramel Fudge – and the new Quaker Oats So Simple Simply range, which offers shoppers a 100 per cent wholegrain porridge option with no added sugar.
Quaker has transformed its portfolio to cater for consumer looking for healthier choices without compromising on taste, as well as supporting retailers with the HFSS regulations. As of October 2022, the Quaker portfolio will contain just one HFSS SKU, Quaker RTE Granola. The brand is looking into plans to reformulate the product in 2023 – if achieved, this would complete Quaker's transformation into a fully non-HFSS brand across its entire portfolio.
"Breakfast continues to play a crucial role in consumers' eating habits as the largest meal occasion in the UK, with over 90 per cent of people eating it every day," said Corinne Chant, Quaker Marketing Director. "We know that consumers are increasingly looking for breakfast options that deliver on flavour, whilst also meeting their needs for lower sugar options.
"As a market leader across the entire breakfast segment, including number one positions in both pots and sachets, our reformulations mark a statement of intent for Quaker in healthy breakfasts. Health is the number one driver for choices at breakfast, with consumers striving for options they believe will leave them feeling fuelled and nourished for the day ahead. However, there is also a need for the category to offer consumers healthier choices that don't forgo on taste, and this has fuelled the development of our most recent non-HFSS NPD."
The announcement follows PepsiCo's ambition for half its snack sales to come from non-HFSS products or portions of 100 kcal or less by 2025. Quaker's transformation journey also forms part of PepsiCo Positive, PepsiCo's strategic end-to-end transformation plan with health and sustainability at the centre, which outlines the company's ambition and dedication to inspiring consumers to make positive choices.