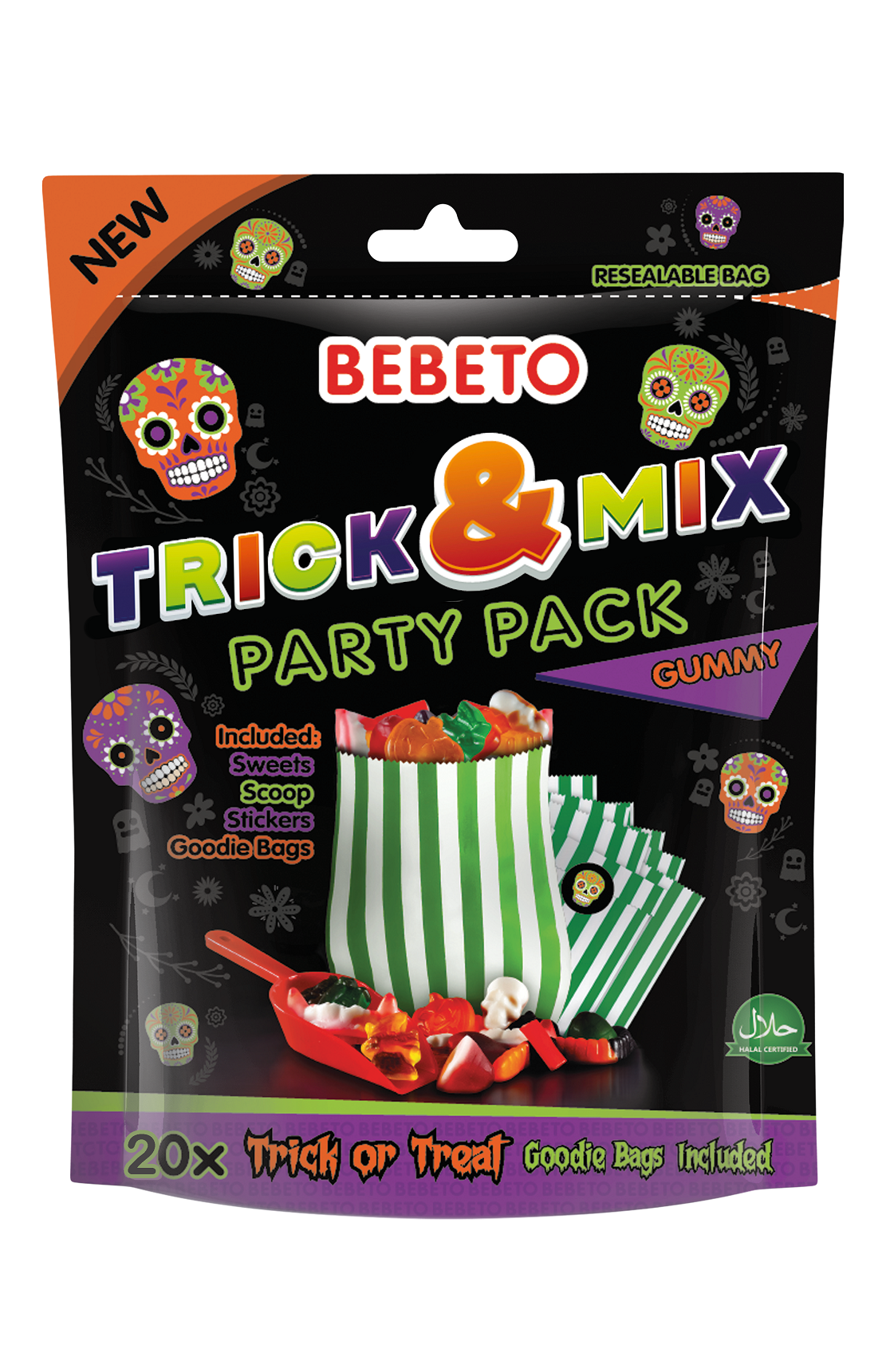 Kervan Gida's Bebeto confectionery brand has announced a Hallowe'en-inspired new product to offer independent retailers "scarily" good sales this season. The bold, Halloween NPD party pack emphasises the brand's values of family-fun and high-quality, value products.
Bebeto Halloween Trick & Mix is a Halal-certified mega pack, available to independent retailers via the distributor Bramble Foods. The 750g pack contains a mix of delicious sweets made with no artificial colours, plus a scoop for the sweets and 20 "trick or treat" paper bags and stickers.
It's a perfect addition for families and friends celebrating the occasion with a party at home, or for shoppers to make up and give out to trick-or-treaters.
Bebeto has also launched a new vegan-approved Hallowe'en range with 3x 150g SKUs, (MRRP £0.89) containing no artificial colours or flavours: Monster Spaghetti Mix Fruit Flavour Soft Fizzy Gummy Sweets, Gummy Brains Bubble Gum Flavour Soft Gummy Sweets, and Fizzy Fangs Strawberry and Cola Flavour Soft Fizzy Gummy Sweets
The confectioner's Hallowe'en NPD announcement comes hot on the heels of Bebeto's six-figure "Everything's Bebetter with Bebeto" campaign that has taken the brand into homes across London and surrounding counties with its first ever UK TV ad. The significant six-figure investment is part of a nationwide marketing campaign, including out-of-home advertising, PR, social media marketing and consumer sampling.
The confectionery brand is on a mission to significantly boost brand awareness and market share in the UK; its sales have already jumped +38 per cent in the last year. "Bebeto was established here in the UK in 2015, and the UK business has achieved year-on-year growth for the past five years," said Kervan Gida UK Ltd MD Stuart Johnston. "Having doubled UK turnover every two years since the UK office launched, our vision is to drive the Bebeto brand to become one of the top five sugar confectionery brands worldwide by 2023. A stream of exciting product innovation, new listings and multi-platform campaigns are hugely exciting steps in our journey."