Sports and Protein Drinks, once solely consumed by bodybuilders and athletes in training, are now drunk by the UK's everyday exercisers – and many who are not. Added to these is a developing hybrid category known as "Functional".
Mintel research found that as many as one in four (24 per cent) Brits have consumed a sports nutrition product in the past three months, rising to 42 per cent of men aged 16-24.
The period following the festive season is the busiest for gym sign-ups, fresh fitness regimes and new year's resolutions as a whole: sports and protein products can deliver directly into this surge of customer demand, which is growing generally but is especially vigorous in the new year.
"Health and wellness have continued to be important to consumers as the world has emerged from the pandemic. In fact, 25 per cent [IGD] of shoppers are more influenced by health when shopping than pre-pandemic, and at least a third of shoppers want to reduce sugar in their diet [Nielsen]," commented Matt Gouldsmith, Channel Director, Wholesale at Suntory Beverage & Food GB&I.
"We've been seeing a long-term trend towards drinks with lower sugar, and the low- or no-calorie segment continues to outperform regular soft drinks, with almost 70 per cent of total soft drink sales [BSDA 2021 Annual Report]," he adds.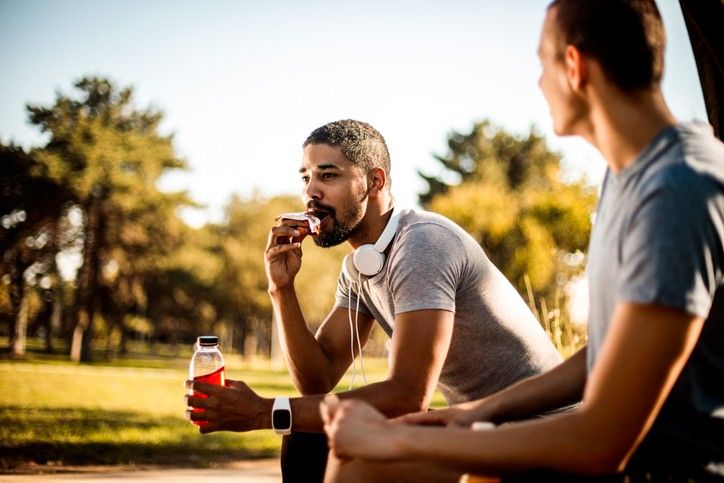 Adrian Hipkiss, marketing and international business director at Boost Drinks, agrees.
"It's clear that people are increasingly opting in for healthier alternatives, including low- and no-sugar options. This in turn has carved way for healthier drink choices. If we take a look at the Protein sector more specifically, Protein continues to be an important part of the functional drinks repertoire for consumers, currently made up of a £94 million total market, growing at 51 per cent YOY [IRI, 52w/e 10.07.22]," he says.
Category on upswing
 The Sports and Energy drinks category has seen a steep upward trajectory in growth over the last year, totalling more than £250.6m vs 2021, and is now worth over £1.8 billion [Nielsen, 52w/e 01.10.22]. Red Bull, the top-selling energy drink brand in the convenience channel, according to an exclusive Asian Trader survey, attributes this growth to the increased demand for functional energy drinks amongst shoppers. These drinks have added over £169.6m in value vs YA and have exceeded the billion-pound mark, now being worth over £1.2bn annually, according to the Nielsen figures.
Asian Trader has asked 1168 convenience retailers across the UK which is the best-selling energy brand in their store, and a vote for Red Bull garnered over half of the respondents (52 per cent). Monster came second with 39 per cent of retailers voting in favour, and the two brands indeed tower over the category. Lucozade and Boost bagged the third and fourth positions, and the Booker-exclusive Euro Shopper brand completed the top five, perhaps reflecting the demand for value across the spectrum.
(Asian Trader survey: Respondents: telephone interviews with 1168 convenience retailers across the UK Fieldwork dates: 19 December 2022 to 05 January 2023.)
"As the No.1 single-serve energy drink in the UK, there's a reason that Red Bull is appreciated worldwide by athletes at the top of their game," a spokesperson commented.
"Red Bull Energy Drink 250ml is already the perfect pack size for a functional energy boost enjoyed alongside exercise. Delivering naturally occurring amino acids and B-Vitamins, Red Bull Energy Drink is the leading choice for consumers looking to maintain and support active, healthy lifestyles."
Red Bull Energy Drink 250ml is not only Red Bull's most familiar and best-selling SKU but it's also the single most valuable soft drink in the UK. Red Bull Energy Drink 250ml alone is worth over £160m to the Total Sports & Energy category, delivering 10 per cent of all Sports & Energy drink sales in the UK [Nielsen].
Mission multipacks
Multipacks have shown a strong double-digit increase of 12.4 per cent MAT [Nielsen] and are driving 47 per cent incremental growth, with 8.7 per cent more multipack shoppers in the last 52 weeks in addition to existing shoppers trading up from single cans to multipacks [Kantar].
"Now is the perfect time for retailers to stock up on multipacks. With Energy Drink 250ml four-pack being the No.1 bestselling multipack in the Sports & Energy category and a variety of flavours and pack sizes to meet consumer needs, Red Bull multipacks make the perfect functional option for shoppers to stock up on for at home consumption," the spokesperson added.
With larger formats driving more than £233m in value to the category, seeing significant growth of 17.3 per cent vs YA. As 49.7 per cent more shoppers purchased these larger formats compared to last year, it is also vital to stock these larger variants so consumers can enjoy a longer-lasting functional boost.
"With the new era of flexible working, and re-emergence of group gatherings, recent insight illustrates that value sales for energy take-home formats (including 1 litre and 4x pack multipacks) are growing at 10 per cent YOY," Hipkiss, of Boost Drinks, adds.
"Whilst take-home formats were a prominent trend throughout the duration of the pandemic, as more time was spent at home, it's interesting to see that this continues to be a growing trend, even whilst we emerge from the restrictions. Keeping this insight in mind and looking down the line over the coming months, we forecast that take-home products will continue being a growth opportunity for retailers to cash in on.
Flavour burst
Driving 83 per cent incremental growth, flavours are also a proven way of bringing new shoppers to the Energy Drinks category, the Red Bull spokesperson adds.
Red Bull launched its Apricot-Strawberry flavour 2022 Summer Edition in March, which has proven to be the best NPD so far for Red Bull, amassing over £2.2m in the first six months of launching, and all set to become a permanent flavour.
"Stocking Red Bull Editions, such as the Red, Apricot and Tropical Editions, will ensure your store appeals to a wider shopper demographic," the spokesperson suggested.
"With the performance of the Red Bull Editions portfolio growing across all metrics – achieving a 83.5 per cent uplift in sales, now totalling £11.2m – the new SKU delivers all of the functional benefits of Red Bull Energy Drink, along with a juicy surge of apricot and strawberry that combine to deliver a sweet, refreshing flavour."
The latest Red Bull Summer Edition is also available in a Sugarfree option. Insight has shown that Sugarfree variants have grown spend by 30.5 per cent, and this new Edition appeals to health-conscious shoppers who increasingly opt for low- or no-sugar variants.
Hipkiss backs the growing penchant for flavours with IRI data for the convenience channel, which found that flavours now account for 38 per cent of stimulation sales. And, Boost Red Berry is their largest selling 250ml Stimulation Flavour SKU, contributing 23 per cent of sales to the sector, within this fast-growing category.
"In response to this demand, we have also expanded our flavoured offerings further with the reformulation of our fruit punch 250ml SKU, in addition to our 500ml Juic'd range – which marked the brand's biggest ever NPD launch to date," Hipkiss says.
Loyal shoppers
Gouldsmith , of Suntory Beverage & Food , which owns the Lucozade brand, points out that sports drink shoppers tend to be loyal, and if retailers don't have the brand, format or flavour they're looking for, they may go elsewhere.
"The sports drinks segment is incredibly buoyant and has seen growth of over 25 per cent in the past year, so retailers should cluster these drinks together and place them near similar segments such as energy drinks so that their shoppers can easily see the choice that meets their needs," he suggests.
"Lucozade Sport, which is the fastest growing major brand in the market, and other best-selling sports drinks should be placed at eye-level to help shoppers navigate the chiller quickly."
Lucozade Sport, which has seen year-on-year growth of almost 38 per cent in the convenience channel [Nielsen, GB Total Coverage Convenience, 52w/e 01.10.22], should be an incredibly important part of any chiller, he adds.
Gouldsmith advises retailers to tap into the sporting occasion during the colder months as the Six Nations Rugby tournament is taking place in February and March. "Retailers should provide a choice of the best-selling sports drinks, such as Lucozade Sport, throughout the competition to make the most of this opportunity to drive sales," he says.
Boost's Hipkiss notes that the easing of restrictions and the re-emergence of group sport activity has stimulated significant demand for sport drinks.
"Throughout the duration of the pandemic, as people were staying home and going out less, sales for sport drinks were hit hard. However, as we returned to a pre-pandemic sense of normality, more people began participating in group sport activity again, meaning that sports drinks sales have returned with a bang. In fact, the Sport category is the second fastest growing category in Soft Drinks growing at 27 per cent YOY in value [IRI, 52w/e 10.07.22]," he says.
He adds that Boost Drinks, which has been acquired by IRN-BRU maker AG Barr last month, is "exceptionally proud" of the leading position that they hold in both the Sports and Protein categories.
"Within our portfolio, Boost Sport is the clear No.2 Sport drink brand in Value and Volume, selling more unit sales than the No.3 and No.3 brands combined.  Boost Sport is currently outpacing the category growth pattern, growing at +84 per cent value YOY. Our Protein range is performing well too, as Boost Protein is a top 3 Value and Volume brand within the symbols and indies, growing at +44 per cent YOY in units [IRI] – something that we are very proud of,"  Hipkiss says.
Uncertain times
Hipkiss adds that it's essential that to keep in mind the current financial landscape, when looking ahead and identifying shopper habits, as this will certainly impact the trends.
"It's undeniable that the beginning of 2023 will be tinged with uncertainty. With inflation at a 40 year high, and interest rates at their highest point since 2009, 22 per cent of households would currently class themselves as struggling, and 90 per cent are concerned about rising grocery prices," he notes.
"Now more than ever, retailers can use PMPs to convey an affordable product that will help with value savings in comparison to a more premium alternative.
"In true Boost Drinks style, our ethos is to remain agile when it comes to consumer trends. We are constantly adapting to the evolving retail landscape and consumer demands – where they go, we go, because the more places they can find us, the better. Ultimately, the more consumers, means the more sales for both our existing and new customers."
Hipkiss says they work closely with their retailers and wholesale customers to understand what will deliver most success for their business, adding that it's important that the retailers keep the needs of core consumer groups at the forefront of all planning and merchandising strategies to effectively maximise sales and profitability.
"This would involve identifying any new or emerging trends as well as evolving shopper habits. However, we recognise that this can be something that requires work, so we strive work closely and collaboratively with our retailers to offer them as much insight as possible on the Boost portfolio," he says.
"This is achieved via demo days which we offer in depot around sampling opportunities. In addition to this, we help our retailers select the best range of products for specific audiences. Beyond this, our mission is to help drive meaningful comms which is available via our website and apps for retailers."
As we enter the New Year, Boost Drinks is all set to diversify their offerings further, by building on the existing portfolio with multiple NPD launches that are in the pipeline for 2023.
"2022 marked a successful growth year for the brand as we introduced a diverse array of NPD launches ranging from our RTD Iced Coffee range – and the addition of a Mocha variant to the reformulation of our 250ml Fruit Punch SKU," Hipkiss notes.
"A particular accomplishment from the last year which we are incredibly proud of was the launch of our 500ml Juic'd range. This marked the brand's biggest foray in the largest-selling can segment."
Made using real fruit juice and priced at £1, the price-marked pack helps retailers to communicate great value amidst increased price consciousness due to the current cost of living crisis. Despite the increased financial uncertainty, sales of 500ml cans are booming, with 28 per cent growth (worth £232m) resulting in the 500ml can segment being the fastest growing category in energy drinks.
Hipkiss says this provides a unique opportunity to penetrate this market with a great product at an affordable price point.
If we look at the Soft Drinks category within Convenience, Sports and Energy is now the No.1 category worth £818m with 19 per cent value growth YOY, according to IRI data. The segment is clearly leading the way, maintaining its position as a top selling category – especially in contrast to categories such as Squash, Lemonade and Mixer.
Therefore, it's essential that retailers are aware of this pattern because this will help to cash in on the growth opportunity.