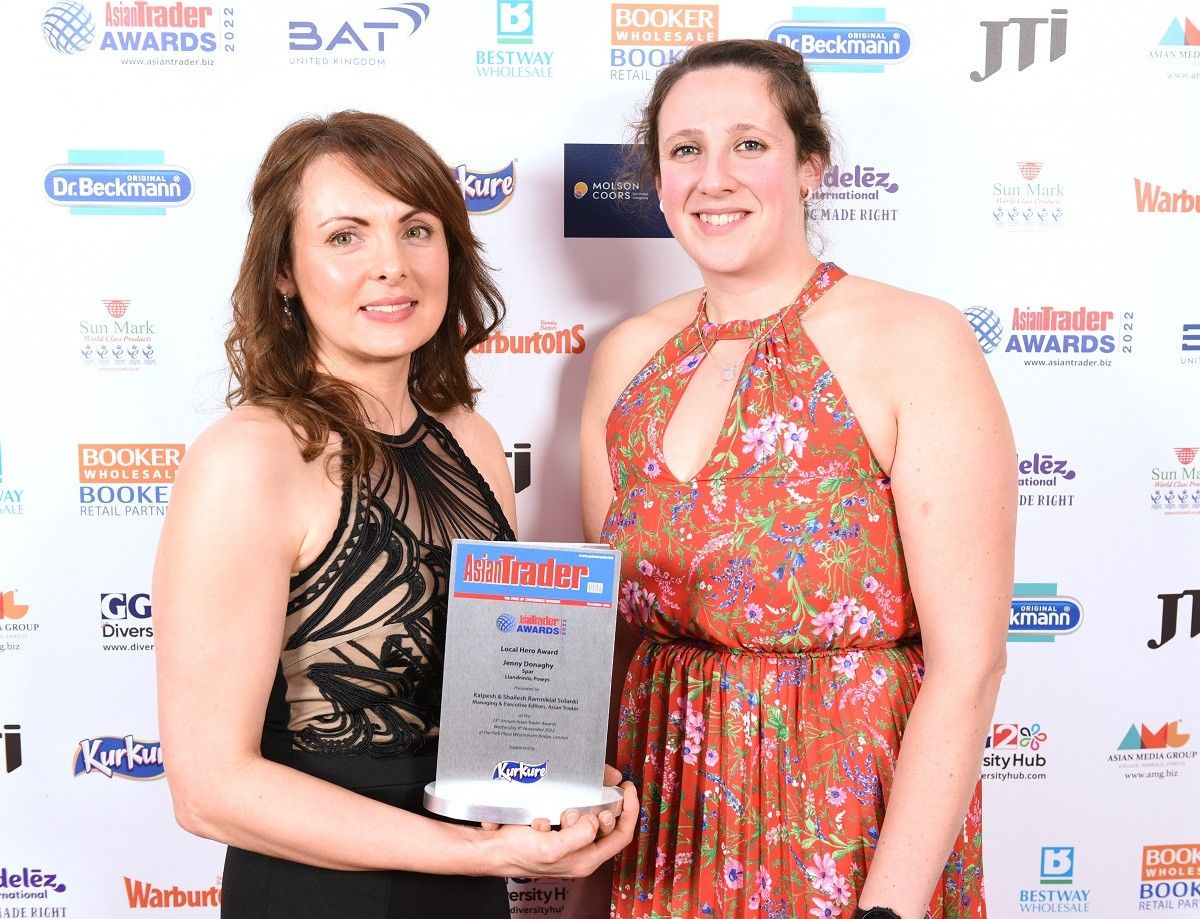 A keen sense of community runs deep through Jenny Donaghy, and her business – the Lewis's Llandrinio SPAR store, forecourt and post office in the picturesque village of Llandrinio on the Powys/Shropshire border. The store has been part of the community for over a century and it is literally the hub for local people.
After the pandemic the family opened "The Cabin" – a unit they provided free-of-charge onsite for locals to drop in and re-establish connections and build self-confidence in a post-pandemic world. The initiative stood out among the many worthy contenders for Asian Trader Awards, winning Jenny the Local Hero Award 2022.
The 2400 sq ft store is almost an institution in Landrinio, and it has been in the Lewis family for four generations. Jenny's great grandparents opened a little grocery store just after the First World War, and after that it was passed on to her grandparents and then to her parents, before Jenny joined the business around late 1996.
"Our family has absolutely been firmly rooted in the village," she comments. "We pride ourselves on our unique team of hardworking, well-trained, knowledgeable staff who are happy to go the extra mile to make all customers feel valued."
The community cabin
Before the Covid-19 pandemic they had a charity shop, run by a group of volunteers, which used to raise around £250 a month for good causes from the sale of donated items. But it closed as the pandemic restrictions kicked in, and during the lockdown period, when they were doing home deliveries and click and collect from the store, Jenny saw how lonely a vast number of people in the local community were.
"We were sort of realising that the community had become a little bit disjointed, a little bit disconnected. There were a lot of people really feeling quite lonely and not knowing where to go to socialise and feel welcome. And so we decided to give this little unit a bit of a makeover. We supplied the paint, repainted and refurbished the unit and named it The Cabin," she says.
They opened in November 2021, and with space for 24 cars to park. They host art and well-being groups, local societies, and surgeries by local councillors and even a member of the Welsh Assembly there.
"We established a charity shop, but only selling good quality, new stock to raise funds to hold sort of micro meetings, little gatherings, art groups, craft groups, walking groups, coffee mornings, plant sales, things like that, just to encourage people to get back out there and socialise," she explains.
It's a joint effort with the local community. They sit on the steering committee, and it is run by volunteers. But they do all the paperwork and promote all its news on social media via a Facebook page.
Under the aegis of The Cabin, they create and distribute a monthly newsletter which includes news about church services, events, locations of defibrillators around the village, essential telephone numbers and all things local.
And a keenly followed feature on their Facebook page is the weather updates, flood updates to be precise, as the area is situated on a flood plain along the B4393 road – "Gateway to Wales" – between mid-Wales and Shrewsbury and Telford.
Today The Cabin is a really important meeting and social venue in the community and Jenny is "very pleased" with how both The Cabin and the newsletter have been received. She is now all set to expand on the good work.
"We are in the very, very early stages of planting a community orchard. We are just sort of getting the foundation work done. And that's quite exciting," she reveals.
New appreciation
Convenience stores across the country have earned praise for going above and beyond during the pandemic, and Jenny feels that there is "certainly a new appreciation of what we do here" even as they were well supported within the community before the pandemic.
"Trade-wise, it went quite crazy during the first lockdown. But we have managed to sustain that level of business. We promote a lot of local products within our store, as well as a great offering from SPAR products," she says.
"So with the combination of the two, I think our local people realise that they can get the majority of what they need just on their doorstep. And of course, with the price of fuel and everything, they do appreciate not having to go to the local town, which is eight miles away."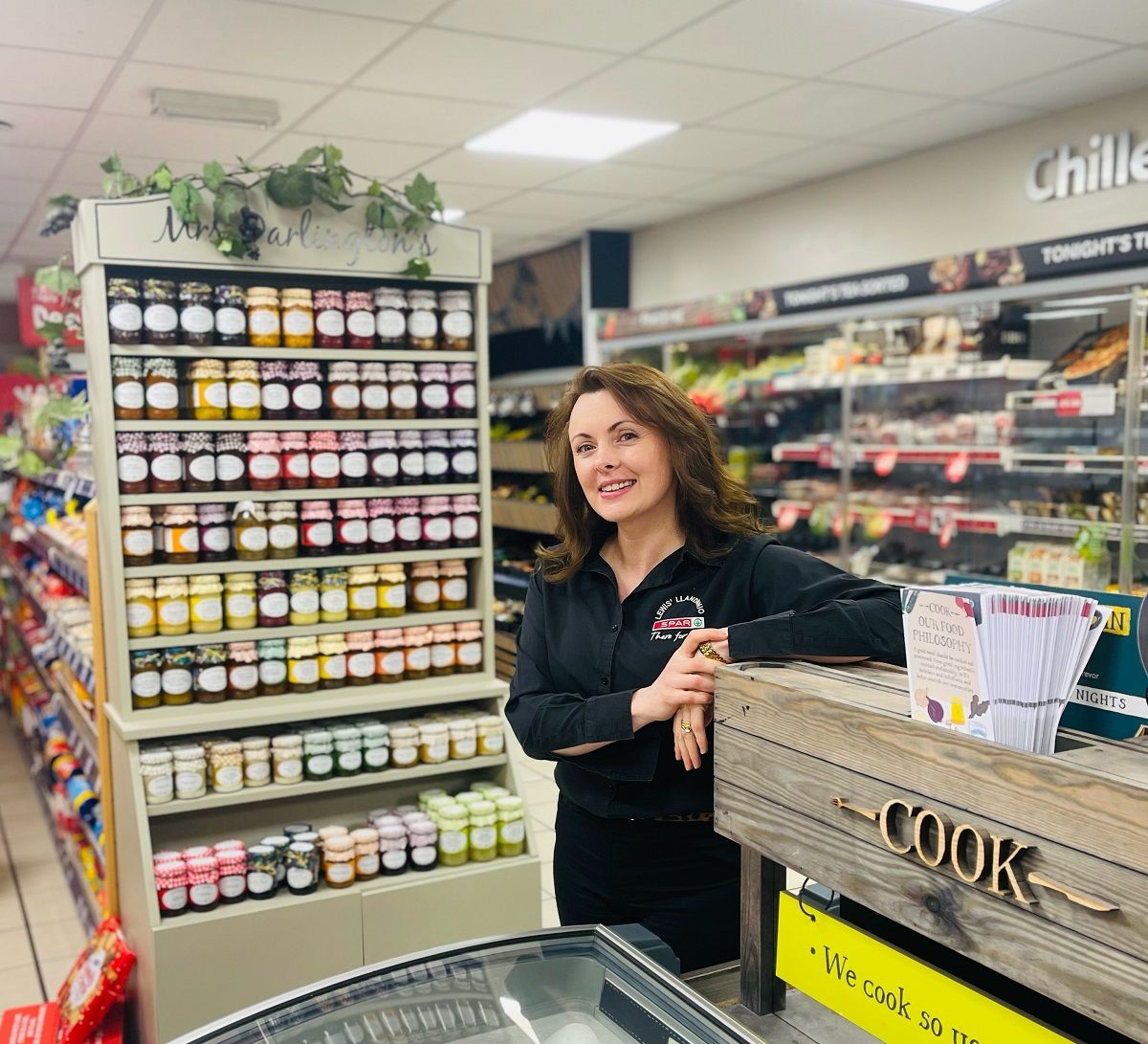 As households continue to feel the financial squeeze of living costs, Jenny adds that there's a certain change in purchasing patterns, with shoppers increasingly looking for value, while still seeking quality.
"Our promotional activity is very important to us at the moment. But I also feel that the shoppers look for good quality as well. They seem to buy good quality product. They want more of a healthy choice as well," she says.
"I think [the cost-of-living crisis] is definitely affecting people and they are watching what they spend, certainly shopping more locally."
One trend that marked the crisis is the rise of own-label products, and Jenny's store is no exception.
"Branded products on promotion go very well. But, own label, they are always very popular. SPAR has been bringing out new ranges and that's been received very well. So yes, the customers are looking out for their own brand products as well as maybe price-marked products to instill confidence in their shopping," she says.
Challenging times
And, there's no escaping of the fact that the businesses have also been battered by the rising overhead costs, particularly energy bills. Jenny's electricity contact ended last year, and they have seen a threefold increase in the bills since.
"We are extremely worried about it. We have actually installed solar panels last summer, in the hope that it will help our long term energy bill," she says. "But unfortunately, it's a very worrying situation with the cost of energy. The government help is obviously very, very welcome, but it ends in March. It's very worrying for retailers."
In addition, Jenny notes that retailers would be facing increases in the cost of staffing as the Living Wage goes up in April.
"There is no doubt these are challenging times. With commodity prices rising and the ever increasing business overheads it is proving a very fine line between making the margin and delivering great value sought out by our customers," she opines.
Supply of stock has been another pain point, but Jenny thinks the supply chain is steadying and their stock levels are a lot better now. In the meantime, her relationships with the local suppliers have also served her in good stead.
"If we were struggling to get certain items from our main supplier, we could certainly rely on the local produce suppliers to sort of fill it out," she notes.
"During the pandemic, [SPAR wholesaler] Blakemore was absolutely amazing. And we didn't seem to struggle an awful lot with our stock. But then with the local suppliers, we were certainly able to supplement our chillers, fresh meat, eggs, milk – all these different things.
"I think the local suppliers were extremely important during the pandemic, and it provides a good mix to our offering. People like to know that they're supporting the local farmers, the local producers, the local card makers. Just to keep the local economy thriving."
While home delivery has seen across the board adoption during the pandemic, Jenny's store, and the local community, has perfected a slightly different model in the form of "ring and collect", which she feels allows them to retain the personal touch to their service.
"We did limited home deliveries during the pandemic. But we did sort of like a click-and-collect service, or a ring-and-collect service. Our customers would ring their order through. They could drive to the store and we would put the groceries in the boot of their car. So they didn't have to get out of the car. But they did have that human interaction. And that reason to get into their car and sort of travel," she explains.
They have continued that service and it's still ever so popular. At the same time Jenny is aware that shopper's expectations around grocery delivery have seen drastic changes and she is exploring offering a "proper" delivery service.
"Obviously it's the way of the world that people do expect to have groceries delivered to them. And the timeframe is getting smaller and smaller, which I don't know whether that's a good thing. It maybe depends on the area also. It's quite rural, so that delivery window would be quite large. But yeah, it's something that we will definitely look to do in the very near future," she says.
Healthy choices
Jenny is a champion of healthy products and "would love to see an emphasis on healthy, good quality produce" to emerge as a major trend in the channel. And, as she expects a decline in fuel sales, she is enhancing her food to go offer, with a "healthy" twist.
"Food to go will be important to our business and I'm looking into doing like a healthy option for food to go, more along the lines of the vegetarian, the salad boxes and things as well as the traditional hot pies and sandwiches," she says. "A more general mix of food to go would be an absolutely essential part of our business going forward."
She has made quite a lot of investment over the last couple of years in the business, and the underlying idea is to enable them – a fourth-generation family business – to have "a solid foundation to confidently face the future and be ready for whatever the mid-21st century has 'in-store'."
They have installed new fuel tanks and petrol pumps to update the forecourt, in addition to the solar panels. Inside the store, they have just upgraded their new EPOS system and put a new counter area in to improve the flow of customers. They have done away with the cigarette gantry, put cigarette rollers in, allocated space for vape and have LED lighting in the shelves.
"Hopefully in the next few months, we will start our next project with replacing our chillers, which are 15 years old. We are going to have more energy-efficient chillers. And there'll be a bit of a refurb as a whole," she adds.
Jenny considers it as a privilege to be in a customer-facing role, and engaged them on a daily basis.
"I think we are very lucky. We have a very loyal customer base, which we greatly appreciate. We would like to continue our involvement in helping the local groups and charities and supporting local parties, local producers," she says.
As for the business side, she understands it can get hard going in, with all that are going up. But she is eternally optimistic. "There are always peaks and troughs and you just got to ride the wave. And the sun will shine!"
---
Jenny's top three tips to be at the heart of the community
Stock local products where possible. It not only supports the local economy but complements your range and maintains availability throughout the store.
As retailers we see so many different people everyday although to some customers you are the only person they may see all day. Take a little time to show appreciation.
Adapt to the changing times because as independent retailers … We can!!!
---