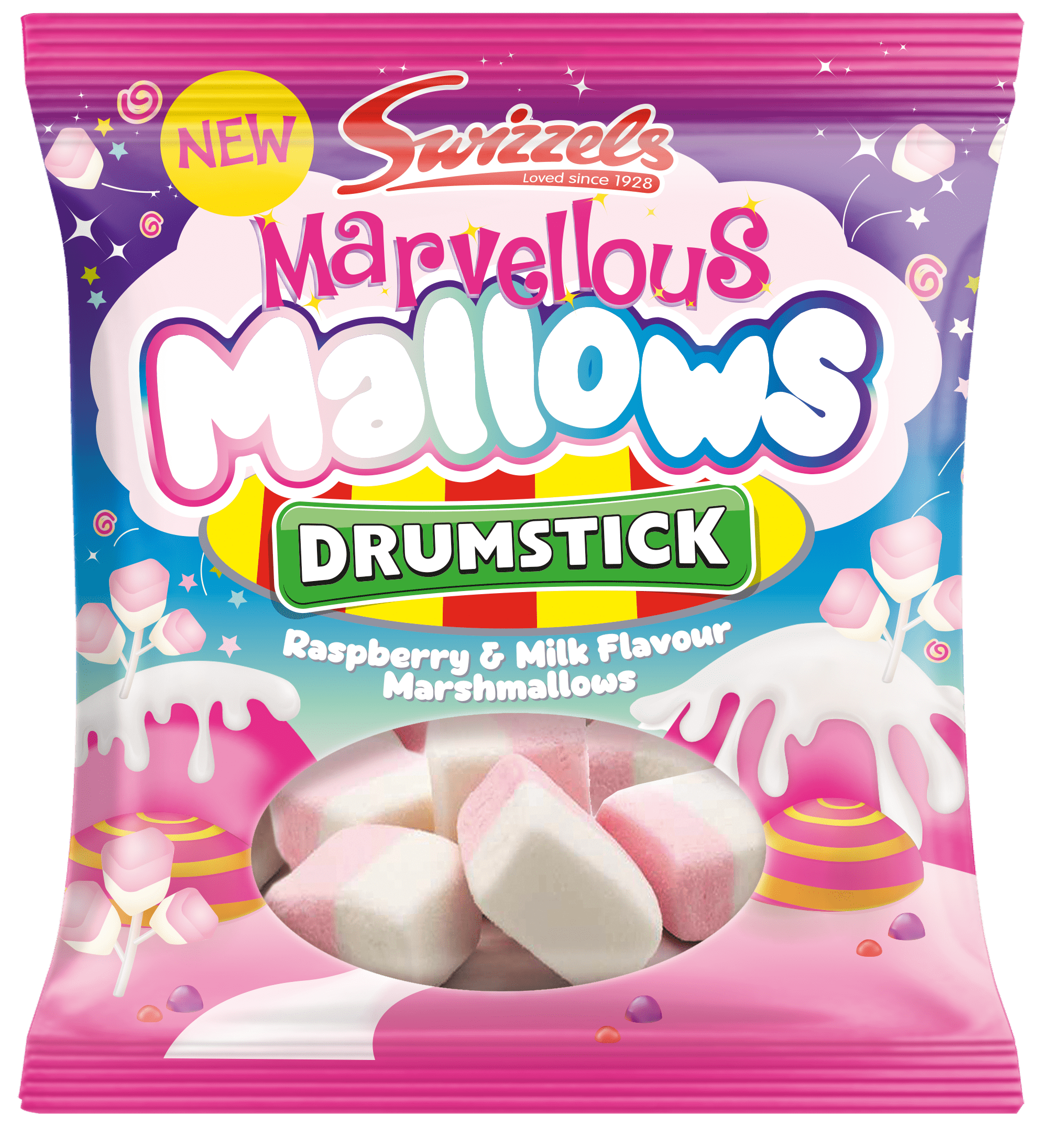 British sweet manufacturer Swizzels has launched Marvellous Mallows, its brand-new and first ever mallows product.
Typically known for its ingenious sweet inventions and countless favourites spanning over 90 years, Swizzels has entered the mallow category for the first time in its history.
The company has combined its iconic and unique Drumstick lolly flavour – known and loved for more than 60 years – with soft mallow to create a unique-tasting marshmallow sweet.
"We're extremely excited about the launch of Marvellous Mallows, our latest sweet innovation and first marshmallow product in our history," said Mark Walker, Sales Director at Swizzels.
"Mixing traditional and consumer favourite flavours into new sweets is key to our product development. Thanks to our past success, we're confident that Marvellous Mallows will be an exciting new addition to the mallows category this year."
The product has great standout thanks to its eye-catching design and will be supported by a strong integrated marketing campaign that will ensure the packs fly off the shelves.
It's not the first time Swizzels has reimagined its popular drumstick flavour through a new product.
Last year, the business launched its first ever Drumstick chocolate bar, which has sold over 4.2 million units since its launch, whilst Squashies, which come in a Drumstick raspberry & Milk flavour, is now the number one sugar confectionery brand in the UK.
Mark Walker continued: "Mallows have continued growing over the last year and the category is now worth £24.7 million. The market is clearly popular with consumers and retailers should stock up on mallows to help drive sales.
"Our latest innovation reinvents the mallows category and offers consumers the chance to purchase a mallow product from a much-loved, well-established brand."
Swizzels is the UK's largest family-owned independent sugar confectionery business and one of the few confectionery companies to still manufacture sweets in the UK. The company makes a range of well-known products including Love Hearts, Refreshers, Drumstick Lollies, Rainbow Drops, Double Lollies, Squashies and Fruity Pops.