Lord Karan Bilimoria, founder of Cobra Beer, talks about the brew that is goes perfectly with Indian cuisine and confirmed the position curry as the UK's national dish – and now it's arrived a zero-alcohol version!
Can you please give an overview of your brand?
I came up with the idea for Cobra Beer in 1989, while I was studying at Cambridge University. I've always enjoyed fantastic Asian food, but felt most lagers were too gassy and bloating to be enjoyed with spicy dishes, while ale was too bitter to accompany a meal. I identified an opportunity to create something smooth and refreshing that could complement a host of different delicacies.
I started off by delivering bottles across the UK myself in my green Citroën, and now it's available in 98 per cent of the UK's Indian restaurants and has won numerous awards, including 145 gold medals at the Monde Selection Awards, since 2001.
Cobra is now renowned for being the perfect accompaniment to Asian food and, as younger foodies in particular become more adventurous and want to explore different types of cuisine, there are even greater opportunities for Cobra to build its popularity.
How is your brand currently performing?
Cobra has established itself as the biggest Asian lager brand in the off-trade by sales volume1. Retailers recognize that Cobra can help them to drive revenue – not just directly through sales of Cobra, but also through its association with Asian food and the opportunities for incremental salesthat this brings.
For example, stocking Cobra alongside popular Indian snacks or meal options as part of cross-category displays or "meal deal" bundles can be a great way to tempt shoppers into picking up more items.
How is the World Larger Market currently performing?
The world beer category now accounts for more than one-third (36%) of total lager sales in the off-trade, up from 28 per cent three years ago2. It appeals to the growing number of people looking for a more premium option or something a bit different.
The Asian lager sub-category has an important role to play within this, with sales volume up by 29 per cent over the past year3. It's a dynamic market with a great mix of well-established brands and new innovations, both of which are helping to drive this growth.
Do you have any new product development?
It's an incredibly exciting time for Cobra as we've recently launched a reformulated Cobra Zero with an improved flavour that perfectly matches the popular taste of the original Cobra lager, in a new can format that brings Cobra's visual brand identity to life.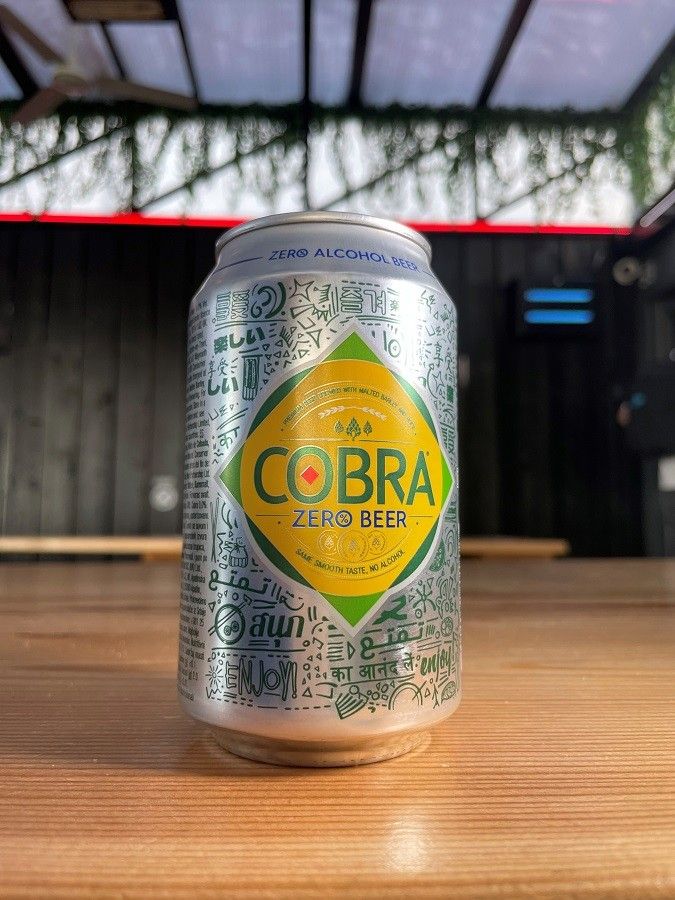 Reaching zero per cent alcohol while maintaining a great taste can be more challenging than achieving 0.5 per cent, but we've been able to achieve that with our new Cobra Zero recipe, which maintains the delicate flavour profile with the hoppy aroma and smooth finish of the original award-winning Cobra beer. We've had really great feedback so far and we're confident that consumers will love it.
The cans will share the same design that we rolled out across our entire Cobra range in the summer, with graffiti-style motifs that aim to appeal to a generation of urban foodies that are open to trying new cuisines, and a nod to our heritage as the perfect accompaniment to Asian food.
How are you supporting your brand and NPD?
To coincide with the launch of our new street-food inspired cans, we collaborated with a host of food influencers and brand ambassadors, including chefs Jeremy Pang and Marni Xuto, to create online content with recipe inspirations for aspiring foodies to try at home themselves.
We also created in-store fixtures and point-of-sale (POS) materials with the same bold graffiti-style designs to help retailers create eye-catching displays.
We'll be building on this following the launch of Cobra Zero, which will be supported by a marketing campaign, including digital advertising, paid social media activity and POS materials.
And we have ongoing partnerships with leading food brands including CharlieBigham's, Walker's Sensations and Spice Tailor, to help our retail customers drive more linked sales.
How important are independent retailers to your brand?
Independent retail stores are a great example of the small businesses that are so vital to the UK economy. Everyone has a fondness for their local store, and in so many cases they are an important part of their local communities,too.
They've played such an important role in Cobra's growth, helping us to make our beer available to customers across all corners of the UK.That's why we're continuing our efforts to help them through our innovations and campaigns that aim to drive more footfall and, ultimately, more sales.
Describe your brand in three words …
Perfect with food.
---
1Circana, IRI All Outlets GB, MAT 17.06.23, Volume Sales HL
2Circana IRI All Outlets GB MAT 15.07.23, Value Sales
3Circana, IRI All Outlets GB, MAT 17.06.23, Volume Sales HL