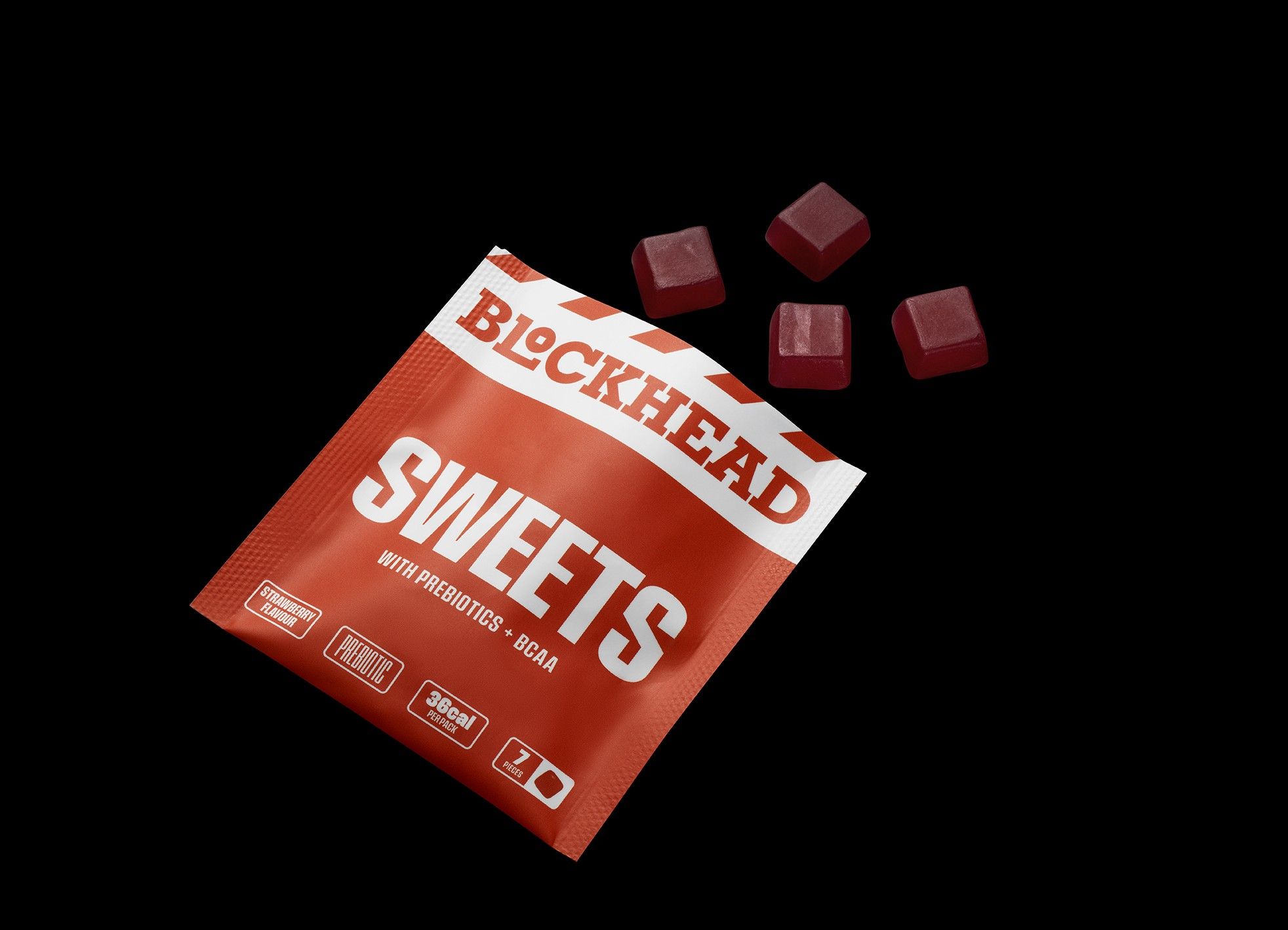 Blockhead's latest new launch is part of the brand's relentless commitment to creating exciting new products that make a difference to people's lives and energise sales in the gum and sugar confectionery categories.
The fast-growing brand is introducing its new functional sweets alongside its existing functional gums and mints range which includes Energy gum, CBD gum, White gum, Vitamin gum and Calm mints. Functional confectionery is hotly tipped as the next big thing, with customers willing to pay more for functional benefits.
Blockhead performance sweets contain prebiotics and protein building blocks known as Branch Chain Amino Acids (BCCA) and are designed for people on the go. They combine a prebiotic sugar with BCCAs to fuel the body, gut and mind. Blockhead sweets are an incredible delivery mechanism, and the active ingredients are delivered straight to the gut.
They are also good for teeth and non-cariogenic which means they do not cause cavities. Just 36 calories per pack, the sweets are sugar-free, GMO-free, gluten-free, and vegan. Case size 12 x 7pc. RRP £1.75 per pack.
"Much like chewing gum there has been little innovation in the functional sweets space but that's all about to change with the launch of our new strawberry flavoured prebiotic sweets," said Danny Lowe, founder and director at Blockhead. "Functional confectionery is set to explode in the UK as it is across the world. Globally, prebiotics market size was estimated USD 4.93 billion in 2020. During the pandemic, as people have focused more on health and wellness, we have seen an increase in sales across many of our stockists including supermarkets, high street stores, health food shops, travel hubs, forecourts and online. There is now a huge untapped opportunity for more retailers and out of home operators to take advantage of our increased brand awareness and high consumer demand by making our products available in more outlets nationwide."
The Blockhead range also includes:
ENERGY GUM. Peppermint chewing gum with fast acting caffeine is rapidly absorbed as you chew, so, you'll be ready to take on the universe in five minutes flat. Case size 12 x 7pc. RRP £1.75 per pack.
CBD GUM. Peppermint gum with 3mg of high-quality CBD per piece. Absorbed as you chew to inspire soothing calm and encourage recovery. Case size 12 x 7pc. RRP £3.00 per pack.
WHITE GUM. Fresh mint chewing gum with active charcoal and baking soda to help you feel fresh and confident, so you'll be ready to shine in any situation. Case size 12 x 7pc. RRP £1.75 per pack.
VITAMIN GUM. 100% RDA of vitamins D, C, B6 & A per 2 pieces supercharged with the essential vitamins you need, so you'll be ready to perform at your very best. Case size 12 x 7pc. RRP £1.75 per pack.
CALM MINTS. Mints with calming herbal extracts designed to help you relax into a deeper sleep, so you're refreshed and ready to tackle tomorrow. Case size 12 x 7pc. RRP £1.75 per pack.
All BLOCKHEAD products are sugar-free, GMO-free, gluten-free, and vegan.
A selection of high impact merchandising and display solutions have been developed POS, bespoke parasite units and instore store promotional items. The pouches can also be hung on hooks or clip strips to help with additional placements and to boost visibility and sales at till point or other prime locations.
All stockists will benefit from our exciting marketing investment throughout 2021 and into next year including OOH advertising, always on social media and digital campaigns, event sponsorships, sampling, press advertising, and exciting competitions.
The range is available through leading wholesalers including Booker, Tropicana Wholesale, and CLF.